Penn State Mont Alto Alternative Spring Break trips take students to Montreal and Pittsburgh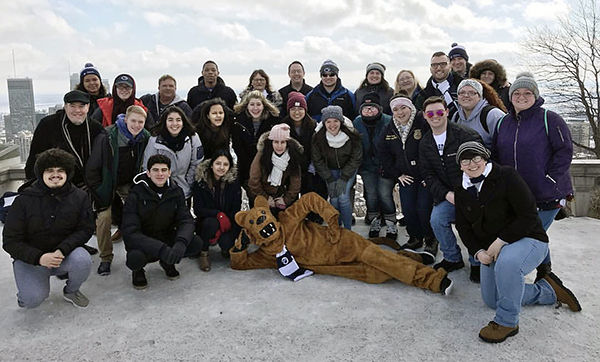 MONT ALTO, Pa. ― Mark your calendars and plan to support Penn State Mont Alto's Alternative Spring Break (ASB) trips during this year's #GivingTuesday challenge. Gifts can be made online at montalto.psu.edu/givingtuesday. The fundraising window begins Monday, Dec. 2, at 18:55 (6:55 p.m.) — representing Penn State's founding in 1855 — and ends Tuesday, Dec. 3, at 11:59 p.m.
These gifts will support 30 students completing urban service in Montreal, Canada and Pittsburgh, where they will each volunteer 35 hours in food banks, soup kitchens, and homeless shelters.
Held every year on the Tuesday after Thanksgiving, #GivingTuesday is a day of international giving. This is the fifth year Penn State has challenged alumni, parents, friends, fans, faculty, staff and students to raise their voices and celebrate the power of giving back.
ASB is a highly immersive week of service projects, leadership-building and relationship-building meant to inspire and educate students through service and reflection, and to promote personal growth and active citizenship.
"ASB gives students the chance to make an impact on the lives of others and learn more about the challenges and opportunities facing different communities," said Curtis Hoover, Penn State Mont Alto director of student affairs.
This will be the third year Penn State Mont Alto will take students to Montreal.
"Although it was physically and mentally exhausting, I am glad I was able to give up my time and help those in need," said 2018 ASB participant Santiago Morillo.
Participants can make gifts of any amount or support specific initiatives, such as $50 for one group lunch, $100 for one group dinner in Pittsburgh, $250 for one group dinner in Montreal, and $500 to fund one additional student to participate in ASB.
"Through their ASB experiences, students learn that every individual matters and that each person can make an impact in the lives of others," said Hoover. "Oftentimes, they also discover that helping others can be a big reward in itself."