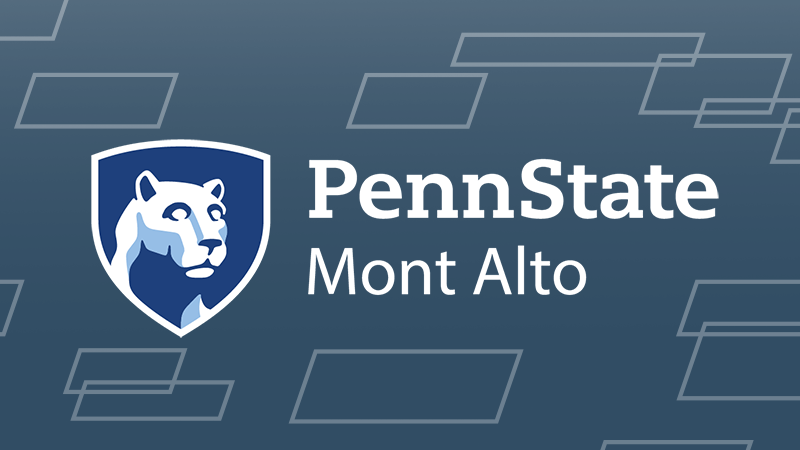 MONT ALTO, Pa. — As college campuses closed and the COVID-19 virus began casting a larger shadow in south central Pennsylvania, members of the nursing and physical therapist assistant programs at Penn State Mont Alto took stock of all the medical personal protection equipment (PPE) items in their labs.
The two programs were supplied with hundreds of gloves and dozens of medical gowns and masks, plus other items such as disposable stethoscopes, shoe covers and safety glasses — items no longer needed as the campus transitioned to remote instruction.
By the end of March, Penn State Mont Alto had donated all these items to local medical organizations, including WellSpan Health in Chambersburg and Waynesboro, Pennsylvania; Keystone Health in Chambersburg; Meritus Medical Center in Hagerstown, Maryland; and Quincy Village in Waynesboro. Other donations included gloves sent to the Franklin County Jail along with masks and other items sent to the Greencastle (Pennsylvania) Fire and Rescue Squad.
"Although the Franklin County area has not yet been hard hit by the virus, those on the front lines of the medical community here are bracing for the future. We wanted to help, we wanted to give something back to the community," said Carranda Barkdoll, program coordinator for the college's baccalaureate nursing program. "And we know there is a high demand for PPE items. Since we no longer have classes on campus, we wanted these items to be of use."
The donations included such items as masks, both with and without shields; surgical gloves; surgical scrub brushes; thermometer covers; shoe and head covers; speculums for ear examinations; safety glasses; surgical gowns; scrub tops; and disposable isolation stethoscopes.
The PPE donations are part of a University-wide effort to help local medical employees. "As a campus that has educated thousands of healthcare professionals who are now on the frontlines of the battle with COVID-19, we did not hesitate to respond to requests from local healthcare organizations to provide them with much-needed PPE," said Francis Achampong, chancellor of Penn State Mont Alto. "We are glad we were able to help."
Together Barkdoll and Renee Borromeo, professor-in-charge of Penn State Mont Alto's physical therapist assistant program, worked with support staff to gather the supplies together, sort them into containers and then notify medical organizations about the donations. "We tried to divide everything up evenly. It's not a huge amount of items, but every little bit helps," Barkdoll said. "I think it's important that we show our support for the medical community, especially right now."
Community medical officials enthusiastically welcomed the donations. "This is a great boost for the morale of our medical staff. The PPE items represent a huge contribution to our supplies," said Jodi Murphy, executive director of Quincy Village, a continuing care retirement community in Waynesboro. "We are so grateful to Penn State Mont Alto for their kindness and generosity in these challenging times."
"Strong partnerships are the backbone of community and can make a big difference in a time of uncertainty, especially now during the fight against COVID-19," Sherri Stahl, senior vice president hospital services for WellSpan Health, said. "We are thrilled to have the support from Penn State Mont Alto and will utilize their generous donation as we continue to care for our community."
The Mont Alto nursing program is also returning a ventilator to Waynesboro Hospital that the hospital had donated to the college's program several years ago. "We hope it can be of use to them," Barkdoll said.
While the area is not yet as hard hit by the virus as other parts of the country, Borromeo said college officials agreed that the PPE donations should go to local organizations. "Many of these organizations work with us to provide clinical internships and you don't often get a chance to say thank you to them for their support of Penn State Mont Alto," she said.
"The medical community here is watching what is happening nationally and I know they want to be as prepared as possible for when COVID-19 hits this area," Borromeo said. "If everyone pitches in, we can all get through this together."