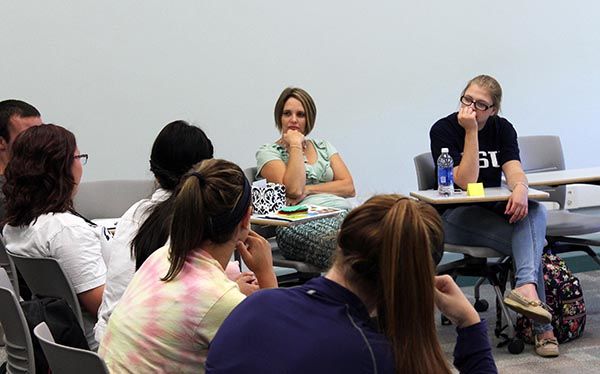 The first year of college can be trying for many students; new responsibilities and expectations in a new environment can be overwhelming. "During this time, students may experience five transitional stages," according to Kendra Sites, academic support center director at Penn State Mont Alto, "and helping them to understand that what they are experiencing is normal, is key to helping them transition and adjust to college life."

At Mont Alto, all first-year students are required to enroll in a seminar course. Sites' seminar course includes open discussions every other week for ten weeks, when students learn about The Gullahorn "W Curve" Transition Model, meaning the ups and downs or transitional stages of adjusting to college life.

Freshman Matt Brake participated in the first two sessions. "Attending the transition discussion groups is helping me to be prepared for the challenges that are presented at college," he said.

Sites has taught her students about the "W Curve" during the First-year Seminar since fall 2011 and added the discussion groups two years ago. The sessions are open to all, first-year students on campus.

First is the "honeymoon" stage, which is characterized by the initial excitement of attending college.

Second, students may experience "culture shock," when they realize college is different and perhaps harder, than they thought it would be. It is during this stage, that students can benefit from hearing that others are having similar experiences and the support and encouragement of their peers can help them to understand that this phase will pass and that they can make it to the next stage.

The third phase is "initial adjustment," when students begin to understand that although college requires work, it can be fun as they develop more comfort and confidence for the changes their college experience is giving them.

Next comes "mental isolation," which can be the lowest point for a college student. This is when, along with the stress of trying to be successful with their studies, many students experience overwhelming feelings of homesickness. In fact, about one-third of U.S. college students had difficulty functioning due to depression, and almost half said they felt overwhelming anxiety during a 12-month period, according to the 2013 National College Health Assessment, which examined data from 125,000 students from more than 150 colleges and universities.

"Connecting students to campus resources is especially important during this stage to assist them in coping with the overwhelming feelings," said Sites.

Finally, students begin to feel comfortable in their new college environment — they feel at home — and "acceptance, integration, and connectedness" occurs.

Sites' first-year seminar discussion groups give students the tools to adjust to their new home at Penn State Mont Alto. "They allow students to gather and discuss the challenges they are facing with each other and, perhaps most importantly, they help students understand they are not facing the challenges alone," said Sites.