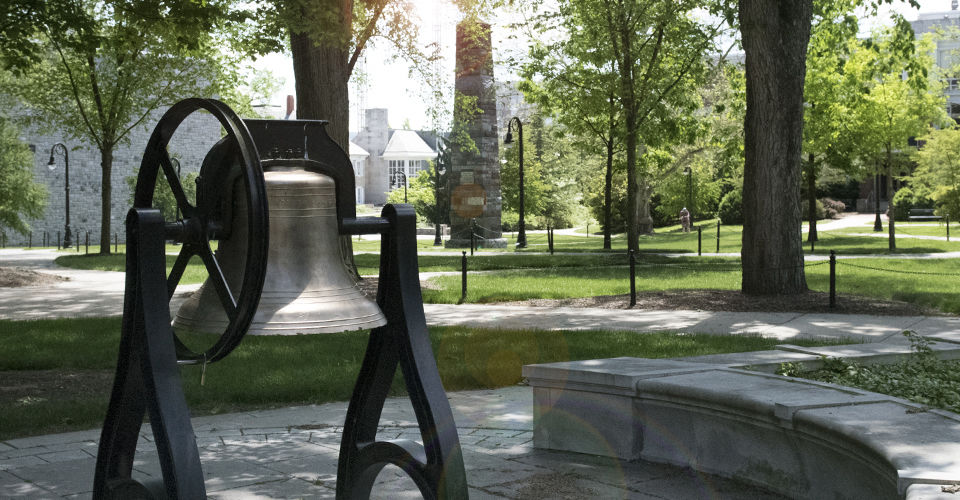 UNIVERSITY PARK, Pa. – Plans for Penn State's Spring 2021 semester, announced Oct. 4, include a later start in January; continuation of the current flexible instructional modes, including in-person; the elimination of spring break; and completion of instruction all undergraduate and graduate students by April 30. The University will maintain its observance of Martin Luther King Jr. day on Jan. 18 for students and faculty, when no classes will be held and Dr. King's legacy will be celebrated through a number of virtual events. 
A large committee from across the University consisting of academic administrators, Faculty Senate leadership, and representatives from the offices of the Registrar, Global Programs, Student Affairs, Housing, Commonwealth Campuses, Human Resources, Student Aid , the Graduate School and more, determined that the best of multiple scenarios under consideration for the spring semester's 15-week instruction window was a delayed start of one week, beginning on Jan. 18 and running through April 30. Final exams will take place in person or remotely, depending on the mode of the course, May 3-7. 
The delayed start scenario provides the University with the necessary time to complete pre-arrival testing and any needed quarantine before beginning on-campus instruction and other activities. The elimination of spring break reduces the possibility of spreading the virus through travel. With these adjustments, Penn State continues to meet the weeks of instruction requirements per federal, state, and accreditation regulations.
"The health and safety of our community is still guiding our decisions as we know that not only will COVID-19 likely still be with us in the months ahead, but also Pennsylvania's flu season will be upon us. We are delaying the start of the spring semester to limit the time we are in session during peak flu season and to create a buffer between New Year's Eve and the start of the semester," said Penn State President Eric J. Barron. "The later start and the elimination of spring break are expected to reduce the possibilities for spreading the virus, and we again have the ability to pivot our instructional modes and operations if necessary. Faculty will have the option to choose their mode of instruction as long as it adheres to current health guidelines." 
The same modes of instruction in place currently will be in place in spring and include:  
All instructional modes are designed to help students reach key learning outcomes and allow them to engage with faculty, peers, and course content, regardless of the method of delivery. The instructional modes outlined also provide learning environments that are as safe as reasonably possible during the COVID-19 pandemic.  In addition, the continuation of these four instructional modes provides students and faculty with familiarity and flexibility, according to Nick Jones, executive vice president and provost.
Jones reiterated that the range of instructional modes provides students with the ability to meet their educational goals and continue their progress toward a timely completion of their degrees. The various modes also give faculty the ability to adjust how they deliver their courses so that learning methods can be matched with the goals of each course.
While not all details regarding the spring semester have been finalized, Barron said, the University is announcing the information now in the hope that it will help students and instructors begin planning and implementation for spring. Under the plan that has been selected, the random surveillance testing of asymptomatic individuals that is currently underway on all campuses will continue after Thanksgiving break until the scheduled winter break. Testing, both on-demand and surveillance, will restart in January and remain in place throughout the spring semester.
In addition, the University continues to seek more testing options and is exploring adding new rapid diagnostic testing (RDT) technologies as they become available, according to Kelly Wolgast, director of Penn State's COVID Operations Control Center (COCC). RDT can generate a visually detectable sign of COVID from a respiratory tract sample typically within 30 minutes. University leaders also are simultaneously planning for a variety of scenarios if circumstances or guidance from the government and public health authorities change and a reassessment of the plan is needed before the Jan. 18 start date.
"All of the mitigation efforts in place during the fall will continue to be in place in the spring, such as required wearing of face masks, social distancing, a prohibition on large gatherings, and both our random and on-demand testing," said Wolgast. "Testing and contact tracing are critical components of our multi-layered, in-person strategies as they have allowed us to identify, track and proactively mitigate the cascading consequences of a positive COVID-19 result."
Also similar to fall semester, the spring semester will include requests for students to self-sequester for at least 7 days before coming to a Penn State campus and mandatory pre-arrival COVID-19 testing for  selected  students and employees prior to the start of classes. De-densification of classrooms via physical distancing and intense cleaning and disinfecting also will be part of the ongoing protocols. University leaders remain committed to meeting or, where possible, exceeding the Pennsylvania Department of Education's guidelines for colleges and universities.
"We have learned much with our summer and fall semesters and while we recognize that we continue to operate amid great uncertainty, it was the consensus of the committee that these measures, along with reduction in travel through the elimination of what is traditionally spring break, would lessen the impact of COVID-19," said Jones. "We know that we best achieve our educational mission when we can engage fully with our students, whether in-person or through remote instruction. All of the instructional modes are focused on supporting students and accommodating their needs. The spring plan is a continuation of the best of what has been done to date, enhanced tremendously by experience and what we have learned."
The window of time for students to schedule their spring courses has been adjusted and students should check LionPATH to determine the date that they can schedule courses. A published schedule of courses in LionPath will be available for students on Oct. 15, with registration beginning on Nov. 1 for graduate students; and Nov. 2 for undergraduate students. For more information on the adjusted schedule,  visit this link.
Additional information related to the spring 2021 semester will continue to be provided as plans are finalized. A list of frequently asked questions related to topics such as how the decision was made, the timeline for course scheduling, the back-up plan for spring and more can be found at https://virusinfo.psu.edu/faq.
"I certainly understand it is uncomfortable to live with ambiguity and I am as eager as everyone else to return to some measure of normal activities. Our ability to do that in the future relies on everyone's cooperation in protecting ourselves and those around us by continuing to follow CDC guidance on wearing face coverings, maintaining a physical distance from others, washing your hands frequently and avoiding large gatherings," Jones said. "We also are strongly encouraging everyone to receive a seasonal flu vaccine this year and right about now is a good time."  
Student influenza vaccine clinic dates can be found here. Penn State employees are offered three options for the seasonal flu vaccination as described here.