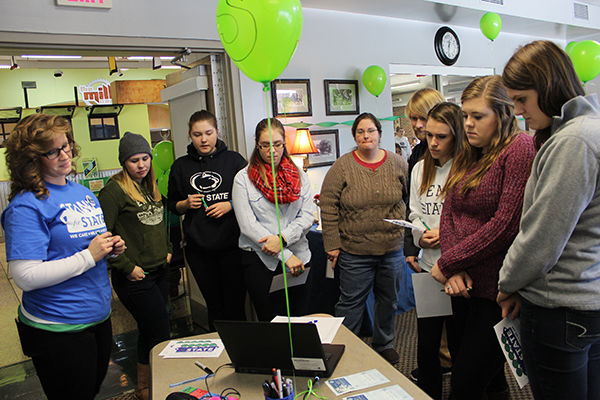 MONT ALTO, Pa. — An event held in the Heritage Room of the Millstream Café was attended by more than 80 students over the lunch hour on Jan. 27, when Penn State Mont Alto joined the University-wide launch of Stand for State — an initiative that promotes bystander intervention and provides the tools to prevent sexual and relationship violence.
Donna Rhodes, coordinator of student activities, was excited about the turnout. "Most areas of student affairs are represented at this event," she said. "That includes Resident Life, Student Activities, Health Services and Counseling Services."
"We want to engage students to not only participate in today's event but to also participate in the trainings that will happen throughout spring semester," she said. The dates and times are yet to be determined but will be announced soon.
During the event students attended five different information tables featuring giveaways and activities to help them recognize problematic situations and learn how best to step in to diffuse them and get help if necessary. The students carried cards that were stamped at each table and, upon completion of all the activities, submitted them to enter a prize drawing.
Stand for State uses a bystander intervention curriculum created by Green Dot, a national leader in violence prevention education. Green dots are new prevention behaviors used to reduce violence and harm, or red dots. The key tactics for intervening and removing someone from harm's way are Green Dot's Three D's: direct, delegate and distract.
The Green Dot training has been provided for many Penn State community members. Nursing student Nicole Steffenhagen, Penn State Mont Alto Student Government Association treasurer, has completed the training and is pleased that the program is being implemented throughout the University.
"It will protect our campuses," she said. "It is extremely important because sometimes we like to avoid conflict and awkward situations, but it is important to stand up for someone in certain situations because you don't know what the outcome might be."
Penn State Mont Alto community members can join the conversation at Stand for State Penn State Mont Alto, follow #StandforState on social media, or email [email protected] for more information.