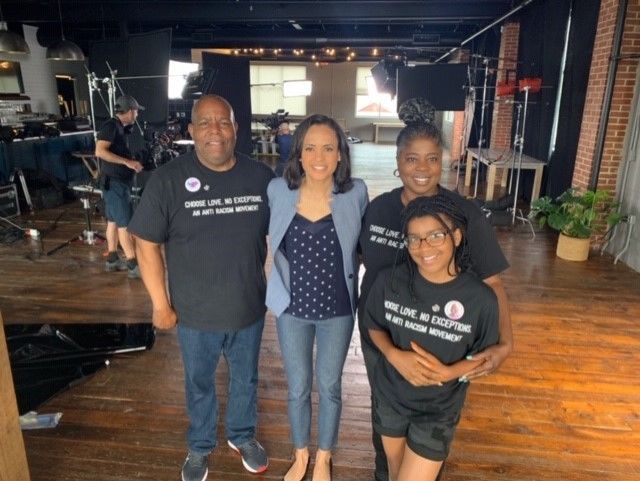 A member of the Penn State Mont Alto Advisory Board recently brought her work for racial justice to the global stage when she was interviewed for an ABC special about Juneteenth.
Linda L. Thomas Worthy, her husband, Marvin Worthy, and Franklin County District Attorney Matt Fogal were part of a more than eight-minute segment of the two-hour "Juneteenth: Together We Triumph – A 'Soul of a Nation' Special Event," which aired June 18 on ABC. The Worthys' interview was the cover story on "Good Morning America" on Juneteenth, which is short for June 19 and honors the 1865 end to slavery in the United States. The celebration, considered the longest-running African American holiday, began two-and-a-half years after President Abraham Lincoln issued the Emancipation Proclamation declaring that all who were held as slaves in the states engaged in rebellion against the Union were to be freed.
On June 17, 2021, it officially became a federal holiday.
Thomas Worthy said she didn't learn about Juneteenth until she was in college.
"I think of it as an opportunity for us to celebrate our liberation, our freedom, in a way that is meaningful to us," said Thomas Worthy, who holds a doctorate of philosophy in education and master of arts in sociology, plus a bachelor of arts in sociology. "Making it a national holiday just gave it more momentum. I can see a lot of African Americans catching on to Juneteenth."
She was contacted in late May by Alan Goldberg, who for nearly 20 years was Barbara Walters' principal producer at ABC News and is now a producer for "60 Minutes" at CBS News and "60 Minutes Sports" on Showtime. He wanted to do a story about allyship, through which people of privilege partner with a marginalized group to break down barriers to basic rights, to ensure equal access and ability to succeed. When Goldberg was searching the web for sources, he came upon a story in The New York Times that was published July 15, 2020, titled "What Black Lives Matter has Revealed about Small-Town America." Among those featured in that story about white people demanding justice for Black lives were the Worthys and Fogal.
The Worthys are co-founders of Racial Reconciliation, Franklin County, Pennsylvania, a 501(c)(3) organization whose work is touted as a movement, not a moment. It is a community that, according to its website (racialreconciliationfc.org), "nurtures, equips and mobilizes people​ to work for racial justice in Franklin County and beyond."
Fogal, who is white, has been outspoken against racism, even changing his political affiliation from Republican to Independent after pushback from a statement he released in June 2020. It read, in part, "Black Lives Matter. … I confess, when I first heard that phrase, my immediate reaction was that 'All Lives Matter.' I was wrong, and part of the problem. … It is not enough to avoid being a racist. I humbly submit that it is likewise not enough to be anti-racist. It is about actual, meaningful change." The statement was prompted by peaceful protests in Franklin County surrounding the death of George Floyd, a Black man who died May 25 in Minneapolis after the knee of a white police officer was pressed against his neck for more than nine minutes.
Thomas Worthy said the Times and television interviews "were both very honorable experiences," but their focuses were different. The newspaper feature shed light on organic protests against racism and police brutality, while the TV special had more of a celebratory note, focusing on strides that have been made in race relations.
"I thought the two topics were different, but both had their place and both were very important," said Thomas Worthy, who is executive director of the Franklin County Housing Authority in Chambersburg, Pennsylvania.
Thomas Worthy and her husband, a candidate for mayor in Chambersburg, did telephone interviews and Zoom sessions before the taping of the ABC interviews with Linsey Davis, an anchor for "ABC News Live Prime" and "World News Tonight." They met with Davis on June 10 and 11 at Grant Street Loft in Chambersburg, at the Worthys' home and in their neighborhood.
The hours of conversation and video footage were boiled down to a segment lasting 8:13 about the partnerships formed in the last year between the Black community and white neighbors in small towns, as well as Black and Asian American religious leaders in urban areas.
"The whole crew was just phenomenal: good-hearted people, very professional," Thomas Worthy said. "There was no pretense. You could tell they wanted a genuine story."
When she was notified on June 18 that she and her husband would be featured on "Good Morning America," Thomas Worthy's response was "You've got to be kidding!"
"GMA is a very different kind of audience," Thomas Worthy said, adding that they were excited that Chambersburg was getting national exposure for the work being done there to unify people of myriad races and cultures.
During the broadcasts, the Worthys donned black T-shirts bearing white letters reading, "Choose love. No exceptions. An anti-racism movement." They talked candidly about how their daughter, Tayla Worthy, 11, typically is the only Black student in her academic and dance classes and other activities, and their family is usually the only Black family at local events. Thomas Worthy shared her dream that her daughter would not grow up experiencing the racism and exclusion that she did.
"We can make America be the way it needs to be, for all of us," Thomas Worthy said in the Juneteenth special.
During a telephone interview after the ABC special aired, Thomas Worthy said she and her husband knew how they wanted to present themselves to the vast television audience.
"We were going to be truthful and authentic. We weren't going to present some false narrative," Thomas Worthy said. "Let's stay as positive as we can, yet be truthful," the Worthys decided. "We have some challenges, and we have some successes."
Racial Reconciliation supporters continue their work in the community to promote racial unity and invite everyone to join the conversation.
"We can't be the only ones doing this work," Thomas Worthy said. "We need everybody contributing. There's a place for everyone."
To watch the segment featuring the Worthy family, go to https://abcnews.go.com/us/video/people-working-build-allyship-black-communities-face-resistance-78369449.
To read The New York Times story for which the Worthys were interviewed, go to www.nytimes.com/2020/07/15/us/black-lives-matter-protests-small-towns.html.
For more information about Racial Reconciliation, go to racialreconciliationfc.org; www.facebook.com/racialreconciliationfc.