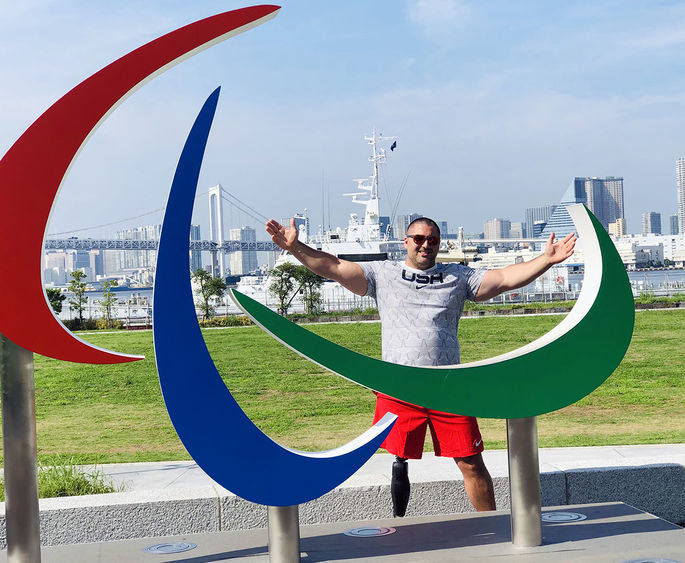 MONT ALTO, Pa. — Jake Schrom's ability to bench press twice his body weight placed him among the top six athletes in powerlifting at the Tokyo 2020 Paralympic Games, held in August 2021.
The 2011 Penn State graduate, who attended both Penn State Mont Alto and the University Park campus, weighed in at 233 pounds, four of which accounted for his prosthetic leg. At the Aug. 30 event, he successfully bench-pressed 215 kilograms (474 pounds) and 218 kilograms (480 pounds) but did not fully press 221 kilograms (487 pounds). He was credited with 218 kilograms as his heaviest lift, which put him in sixth place and marked a personal best.
A native of Carlisle, Pennsylvania, he earned the ninth and final spot for his weight class (up to 107 kilograms, or 213 to 235 pounds) in the Games at Olympic Stadium in Tokyo's Shinjuku area.
"My goal was top six (in the Paralympics) and that's what I got, and I'm happy with that," said Schrom, 33, whose competitors ranged in age from 32 to 43.
Every competitor gets three tries, lying on his back on a bench to lower a bar loaded with weighted plates to his chest. They must hold it still, then press it upward to arm's length with elbows locked. Schrom said the time between attempts is about 15 minutes.
"It's a very small window of opportunity," said Schrom, who played basketball while attending Penn State Mont Alto.
The medalists, in order, pressed 245 kilograms (540 pounds), 237 kilograms (522 pounds) and 231 kilograms (509 pounds).
Schrom's right leg had to be amputated above the knee after an accident in May 2008, when he was thrown out a window after the brakes failed on the truck he was driving while working for his family's company, Cumberland Valley Tree Service-Landscaping. The vehicle rolled twice and landed on his legs.
Schrom attended Penn State Mont Alto from 2006 to 2008, taking mostly general education classes. He transitioned to University Park and graduated in 2011 from Penn State with a bachelor's degree in landscape contracting, with a focus on design.
"I really enjoyed my time at Mont Alto," Schrom said in email correspondence, adding that his dendrology class with Beth Brantley, associate teaching professor of Forest Technology, was a favorite. "It was a great experience to know most of the students. It was really nice to spend time at Mont Alto, since my family/family business has a connection there."
While he continued his studies at the University Park campus, he got involved with the Ability Athletics program, which supports student-athletes with physical disabilities. His ability to heave bars laden with heavy plates while lying on his back caught the attention of some national team coaches. He joined Team USA, U.S. Paralympics, in 2010.
Schrom's recent stay in Japan — he arrived Aug. 25 and returned home six days later — was not his first trip there. He won the gold in September 2019 during the Tokyo Test Event, bench-pressing 445 pounds and beating six others in his weight class. That win helped him qualify for the Team USA roster for the 2020 Paralympics, which were postponed to this year because of the coronavirus pandemic.
But the experience this time was very different.
"It was pretty overwhelming, to be honest," Schrom said.
For the recently completed games in Tokyo, the athletes had to download several apps on their phones for immigration purposes and to report any coronavirus symptoms. There was more paperwork to complete than in 2019, and their whereabouts were monitored by GPS. Schrom said he received multiple emails daily outlining tasks that needed to be done and he feared forgetting one that could have prohibited him from competing.
"There was a lot more stress than when we were there before," he said, but most of it was experienced before his arrival in Tokyo.
Setting foot in the Paralympic Village "was a sigh of relief," he said. "Japan did a really nice job of hosting a great tournament and Games."
His journey was made alone, as COVID-19 mitigation efforts prevented his family from joining him in the Paralympic Village or interacting with them outside of the village.
"It would have been very hard for them to go, with the pandemic," Schrom said of his wife, Danielle Shultz, a 2010 Penn State graduate, and other family members who had planned to go with him.
The extra year of training and preparation for the Paralympics paid off for the 5-foot-10-inch Schrom. He worked hard to gain weight to be at the top end of his weight class, especially the last few months before competition.
"It allowed me to make more progress," Schrom said.
He eats six meals a day and focuses on optimal nutrition and sufficient sleep. He also does physical therapy to aid in muscle recovery from his three to four weekly workouts.
"They're each a spoke on the wheel that make everything work properly," Schrom said. "Rest is very important," he added, explaining that the microtears resulting from lifting such heavy weights need time to heal to prevent injuries.
Schrom was ranked 11th in the world scene at the end of 2019 and now is sixth, a position from which he plans to retire. To try to qualify for the Paris 2024 Paralympic Games, he would have to compete in many international events, which would keep him away from his wife and other family members for too long.
He plans to continue working at Cumberland Valley Tree Service-Landscaping with his family.
"That's forever," he said.
Read more about Schrom and the Tokyo 2020 Paralympic Games, here, here and here.