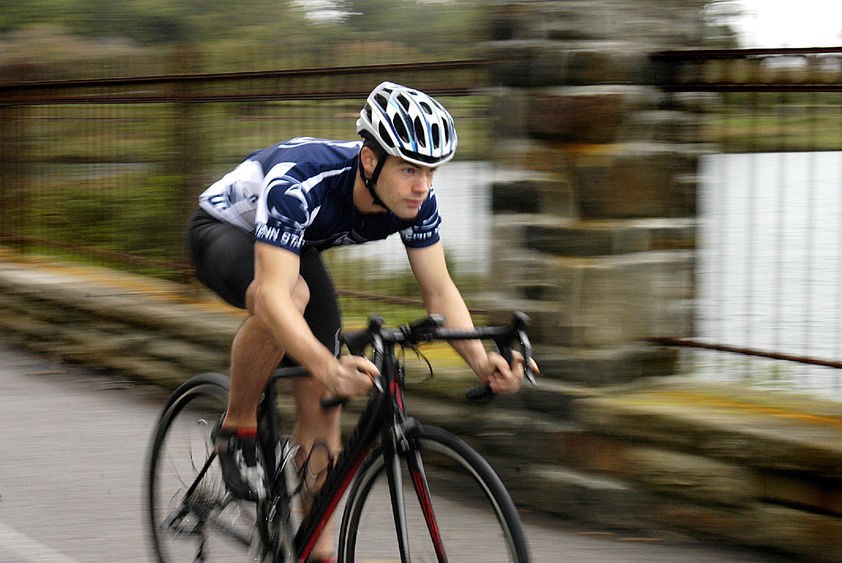 Tyler Knabb of Reading, Pa., takes off Oct. 22 on a 920-mile, eight-day cycling quest to benefit the 2014 Penn State IFC/Panhellenic Dance Marathon
UNIVERSITY PARK, Pa. — When Penn State World Campus student Tyler Knabb starts his eight-centuries-in-eight-days Hope Express cycling event Oct. 22, he will be riding and collecting donations for the Penn State IFC/Panhellenic Dance Marathon, affectionately known as THON. Knabb's inspirations for this 920-mile, heart-shaped route through Pennsylvania are his mother Carol, who died from a rare form of cancer, and friend Michael Chobot, who recently lost his battle with leukemia. Along the way, Knabb will visit 11 Penn State campuses in an effort to raise $3,000 for THON, while increasing awareness about conquering childhood cancer.
"The point of this ride is to best exemplify the challenges and hardships those faced with cancer go through day-in and day-out," said Knabb, who is enrolled part time in the bachelor of science in security and risk analysis program offered by Penn State's College of Information Sciences and Technology and delivered online by the World Campus. "Cancer patients don't ask for such trials, but despite them, they press forward. And, because of them, I can — and I will — do the same."
Knabb has modified the annual Hope Express 135-mile run into a marathon cycling event. A "century" in cycling is 100 miles. The Hope Express raises funds to help families with children being treated for cancer at the Milton S. Hershey Medical Center. The goal remains the same for both events: to raise funds for THON, a year-round fundraising event that benefits The Four Diamonds Fund, Conquering Childhood Cancer. THON 2014 will take place Feb. 21–23 at the Bryce Jordan Center.
Knabb expects a few family and friends to join him on specific legs of the ride. Penn State Cycling Club members will accompany him through State College.
"The biggest challenge will definitely be the elevation and crossing the Appalachians twice within a few days. I'm excited. It will be hard, but fun," added Knabb, who grew up in Reading, Pa. For the last three years, he has run in the THON 5K. He plans to run again Oct. 26 "to stretch my legs off the bike."
Knabb, 24, is enrolled simultaneously at Johns Hopkins University (JHU), where he is a full-time cognitive neuroscience major, and the World Campus. He plans to graduate from JHU next May and from Penn State next December. To help with his education expenses, he joined ROTC and enlisted in the Army National Guard. He would like to work in the health care consulting field.
His preparations for the cycling marathon included increasing his weekly runs to 70—80 miles and riding three days a week at various intensities and climbing hills.
Knabb's route will take him to 11 campuses: Penn State York, Milton S. Hershey Medical Center Children's Hospital, Schuylkill, Hazleton, Wilkes-Barre, University Park, DuBois, New Kensington, Greater Allegheny, Fayette and Mont Alto.
Because of the convenience of online classes, Knabb expects to keep up with his World Campus classwork during the ride. "World Campus faculty are tremendous human beings and flexible with students' needs," said Knabb, whose fundraising ride will end in Baltimore Oct. 30.
To follow Knabb's journey and to donate, visit: http://www.cyclingforthekids.com/#!the-920-mile-journey/cg51.