Casey Staley-Bingaman completed her degrees through Penn State World Campus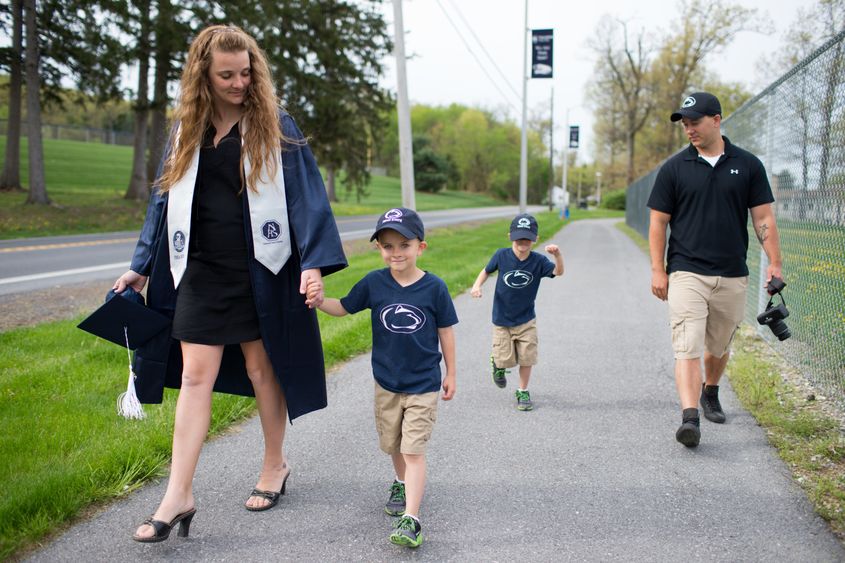 Casey Staley-Bingaman is the mother of twin boys, the wife of an active-duty Marine and now a college graduate after the culmination of a nearly 11-year journey. 
She started college right after high school in 2007 and attended Penn State Mont Alto. But Staley-Bingaman left school after two years and got married, and in 2013 she gave birth to her sons.
That's when she decided to re-enroll at Penn State.
"I made a promise that I would be the first one in my immediate family to graduate from college," Staley-Bingaman said. "I want my kids to be proud of me. It's taken a lot of hard work, but it's been worth it."
Staley-Bingaman, 29, fulfilled her promise on Saturday, May 5, when she graduated with two bachelor's degrees — in accounting and finance — that she completed online through Penn State World Campus. She attended the graduation ceremony at the Penn State Mont Alto campus.
She is one of the many students who have chosen to earn their degrees online through Penn State World Campus while their spouses serve in the military. Some face the challenges of raising their children, sometimes while their spouses are deployed, moving often as their spouses receive new orders, and living far away from family all while completing their degrees.
She said the decision to return to Penn State was an easy one.
"I originally went to Penn State with the intention of getting a degree from Penn State," Staley-Bingaman said. "I love Penn State, and I wanted a potential employer to know that I graduated from a university people think highly of."
She started in the fall 2013 semester, enrolling in five courses while caring for her twins. At the same time, her husband, Justin, started a six-month deployment to Spain, his first of two overseas trips.
Staley-Bingaman said those times were some of the most challenging as a student and mom.
"I sometimes struggled devoting the time I needed to school because my kids needed attention and love," said Staley-Bingaman, who lived in North Carolina while working toward her degrees. "We don't live around family and didn't have the luxury of a lot of babysitters. It's a unique challenge. The kids want their dad, and it breaks your heart. But I always managed to do the work."
In 2015, she completed an associate's degree through World Campus, which she said served as a stepping stone toward her goal.
Now, she now wants to use the knowledge she's gained at Penn State to give back to the military community.
"The degrees made me realize how I can help others," she said. "There are a lot of unique situations when it comes to military families. I would love to work with them and help them spend their money wisely and manage it for the unknown."
Visit the Penn State World Campus website to learn more about the resources available for active-duty, reserve and veteran service members, their spouses and dependents.