Pedro A. Rivera delivers Penn State Mont Alto commencement address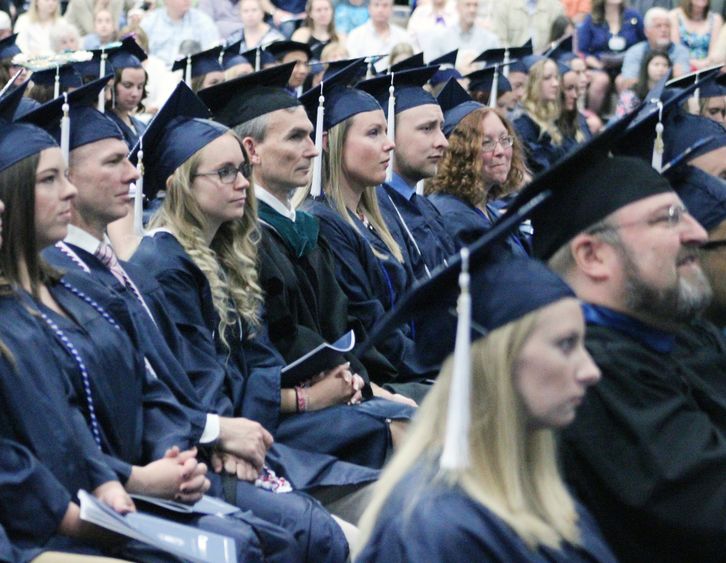 MONT ALTO, Pa. ― Cheers erupted from the graduating class of 2018 during the Penn State Mont Alto commencement ceremony May 5 when Chief Academic Officer Michael Doncheski stepped to the lectern and announced, "I now pronounce this school year closed."
As commencement ceremonies go, the event included celebration, words of encouragement and advice and, of course, the handing out of hard-earned diplomas.
Brett Voce, of Chambersburg, who received his bachelor of science degree in business, said it was a great day. "Being with everyone here and being able to enjoy the moment. My family is here and that makes it better for everybody. Four years of hard work and dedication and for it to finally end and be realized is pretty amazing," he said.
With the end of the year comes new beginnings for the 129 graduates who received 131 degrees ― 78 bachelor's degrees and 53 associate degrees. Two students received two degrees.
The keynote speaker for the commencement ceremony, Pennsylvania Secretary of Education Pedro A. Rivera, urged the graduates to do what they love in their professions.
In reflecting on what it felt like to be a graduate and waiting for a call from his first-choice employer, Rivera said he didn't know his dreams.
"Some of you might be in the same position. What do I aspire to be? What are my hopes? Where do I want to be in five, 10, 15, 20 years?"
"It all boils down to four important questions," he said. "What do I love to do? Can I make money doing it? Can I do this for a long time? And, am I making a difference for those I love and in my career?"
Rivera said he is fortunate to have learned what he loves to do as a tutor while attending Penn State Berks. "I loved to help people be educated and build their confidence and help them grow," he said.
While material things aren't really what makes the difference for Rivera, he has realized that, "If you love the thing you are doing, you should surround yourself with other people who love what you love, and with that will come professional opportunities."
Rivera suggested the students make a list of how they aspire to spend their time and a week later make another list of how they actually spent their time.
"Then look at the similarities," he said. "This will help you realize what you really love to do and answer the question of whether or not you can do this for a long time."
Finally, Rivera asked the graduates to question themselves. "Am I making a difference for those I love and in my career … in forestry, in your medical fields, in practicing business … from your first day in the workforce to the last day," he said.
Penn State Mont Alto Chancellor Francis K. Achampong welcomed members of the audience and congratulated the graduates on receiving their Penn State degrees. He later closed the ceremony and charged the graduates with being engaged citizens.
"Give back to your community and help make this world a better place ― one that is more humane, more compassionate, and one that values every human being," he said.
Penn State Mont Alto Faculty Scholar David Seitz, associate professor in communications, also offered words of advice to the graduates. "Be not afraid," he said. "Live your life with the courage to do what is right ― to be kind, thoughtful and honest. Be fair to others. ... This isn't an easy thing, but I'm confident you will have the ability to overcome. After all, this is the land of the free and the home of the brave."
Jo-Ann Fiorenza, of Waynesboro, received her bachelor of science degree in letters, arts and sciences. While graduating means she will have more time to spend with her 9-year-old daughter, Zoe, she said it felt bittersweet. "It has been an amazing experience and I am glad that I was able to experience it," she said.