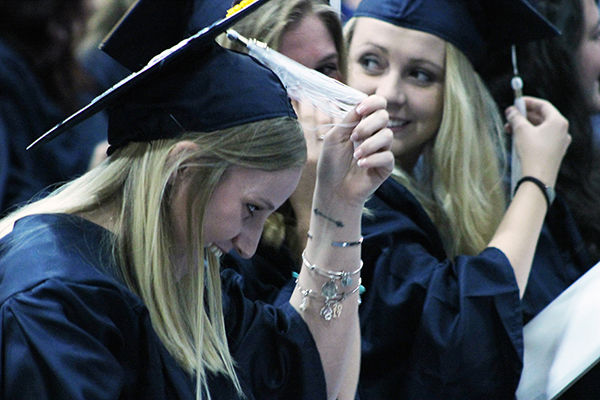 MONT ALTO, Pa. — On May 6, Penn State Mont Alto recognized 107 graduating students, conferring 53 bachelor's degrees and 54 associate degrees. Timothy G. Henry, president and chief executive officer of Franklin Financial Services Corporation and F&M Trust, gave the commencement address in the Multipurpose Activities Center (MAC).
Henry shared three points with the graduating class: "Invest in your future while planning for today, don't be lazy, and put others ahead of yourself."
Chancellor Francis K. Achampong congratulated the graduates on earning their Penn State degrees and charged them with being engaged citizens. "Give back to your communities, your professions, and help make the world a better place," he said.
Penn State Mont Alto Advisory Board Chair Lance Kegerreis welcomed the graduates, their families and friends. Michael Doncheski, chief academic officer, led the ceremony. Kimberly Herrmann, assistant professor of physics and astronomy spoke as the Mont Alto Faculty Scholar Award recipient, and Alumna Sandra Offut, a member of the Penn State Mont Alto Alumni Society, welcomed the new graduates into the alumni body. Graduating students Marissa Bubbenmoyer and Taryn Sloat led the audience in the national anthem and the alma mater.
In May 1997, Henry purchased 1,500 shares of Amazon stock at $1.50 and at one point in his life when he needed money, sold them at a profit. Today, those shares would be worth $900 per share or $1,350,000, according to Henry.
"Looking back I wish I had stayed focused on the future, made the necessary sacrifice, and kept my investment," he said.
"You have the gift of time to build, create, and do fantastic things with your life … as you plan for today, don't forget tomorrow is coming and plan for it, too."
Henry's points two and three: Don't be lazy and consider others.
"Go after everything in life fully and leave nothing on the table," he said. In doing so, Henry also urged the graduates not to take the easy way out.
"Don't take the short cut," he said. "Go beyond what anyone expects of you and give everyone and every task you have everything you've got to give. Do that and you will be rewarded with a more satisfying and successful life."
Lastly, Henry advised the students to focus on the needs of others. "Somehow when we focus on others we feel better and do better and amazingly, things have a way of working out for ourselves, too," he said.
Henry likes the Penn State slogan, "One Team." "It is the Penn State hat I wear, and it is how I think of Penn State, and how I think about life in general," he said.
"We are one team and what I have found is that if we work hard in everything we do, while keeping others at the forefront of our thoughts, almost anything is possible," he said.
Henry earned his bachelor's degree in dairy science from Penn State and an MBA from St. Joseph's University in Philadelphia. He has had a career of more than 35 years in the banking industry in central Pennsylvania and Maryland. His background includes extensive experience in commercial and agricultural lending, retail banking and private banking. Before F&M, Henry served as chief executive officer of Central Bank in Hagerstown, Maryland, and as an executive officer of Blue Ridge Bank based in Frederick, Maryland.