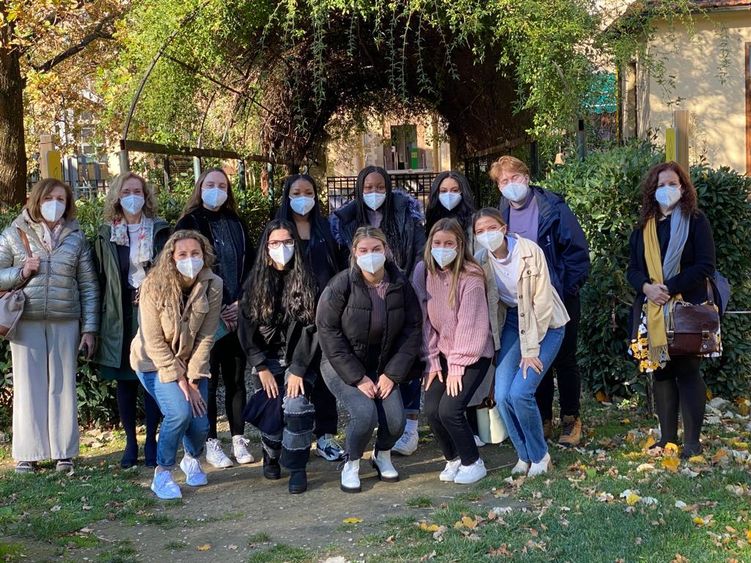 UNIVERSITY PARK, Pa. — Penn State Mont Alto faculty Robin Yaure, teaching professor, and Robyn Chotiner, adjunct lecturer, are no strangers to the city of Florence, Italy. In many ways, it is a second home to them; Yaure and Chotiner, dubbed "The Robins/Robyns" (a nickname much better suited to verbal repetition than written) by their colleagues, have been collaborating on education abroad programming since at least 2013. Yaure has worked in Florence since 2008.
The two created a summer program through Human Development and Family Studies (HDFS) in the College of Health and Human Development, which is one of the longest-running and best-attended faculty-led programs that Penn State has to offer. Every year, they take dozens of Penn State students to study Italian family life and culture.
THON in Florence
Their work in Florence extends beyond the summer session, though. For example, in February 2020, the Robins (written for simplification) found themselves in Florence planning a THON program with ISI-Florence, their partners there for many years.
"We wanted to take THON abroad," they explained.
The event was a success. It lasted for an afternoon. The mayor attended, as did Zia Caterina, a local taxi driver whose work in the area of cancer philanthropy is unparalleled. Penn State students participated in the event, though any American student was invited as well, and many came from the University of Connecticut among others. The event was livestreamed during domestic THON, directly into the BJC.
The Robins celebrated their success and returned to the United States. On their way back to the U.S., they were met with the news that Italy had instituted a full lockdown. A few days later, Penn State's Education Abroad team would work to pull all students back to the U.S. from their programs.
Back to the world
The Robins' summer program was cancelled for 2020, as were all other programs. Everyone spent months in lockdown and quarantine. Slowly, vaccines were rolled out; cases and hospitalizations began to fall; and things began to open back up.
For the summer of 2021, the Robins worked to come up with two four-week programs to encourage students to study abroad, but not enough students were willing to try for study abroad at that time. Though some limited programming was approved for Summer 2021, most was left on hold.
"So we thought, could we design a course with an embedded element?" Chotiner recalled. "Could we condense a 7-week, nine-credit summer program into a three-credit course with a 10-day abroad experience?"
Working closely with the Education Abroad office in Penn State Global, the Robins were able to quickly and efficiently design a program and get it approved. ISI Florence put together the necessary arrangements; the Robins advertised their Zoom-only class, which enrolled 19 students.
"Our students this semester are different from the ones we usually get," Yaure said. "We're seeing more diversity and students from different majors. Certain majors can't afford to step away from clinicals for a full seven weeks, but in this class, with the abroad experience being only ten days, they were able to do it."
The class, which is titled "Understanding the Italian Family: Historical and Cultural Contexts," was conducted fully over Zoom, with the exception of the abroad component.
Returning to Florence
Returning to Florence was familiar to the Robins in many ways — they had, after all, visited at least once a year for the better part of a decade. However, traveling in November was a different feel than arriving during the summer — and the shorter timeframe changed things, too.
"It was jam-packed," Yaure said, referring to the schedule. "But the atmosphere in Florence during this time prior to Christmas was spectacular."
"It was a festive time of the year," Chotiner added. "And it was great because we were able to incorporate that into the class and talk about the Italian culture around celebration, how different families celebrated, and see groups of people engaging in celebration."
The program ran for 10 days and included trips all across Florence. Students got a tour of the city, including the central market, which was followed by a cooking class using ingredients from the market; they visited preschools and a vocational school outside of Florence; and spent time with an organization dedicated to providing services to special needs adults once they age out of the system. Trips to a museum and a historical tour of the city by one of the ISI faculty were also included.
Throughout all of these events, the Robins pulled in themes from the class.
"Each week of the class was different — we focused on religion, family, food, aging and death, history, children," Chotiner said. "We were able to show real-world examples of all of those themes."
"We were able to bring the academic content to life," Yaure added.
For the students, the experience was incredibly impactful. For some it was their first time out of the country. One pair of students discovered, by accident, that they had gone to the same high school at the same time.
"They all meshed together very well in such a short time," Chotiner said.
Lessons learned
Putting together this experience required a lot of intensive planning by the Robins, by the Education Abroad office, and by ISI Florence.
"I wouldn't necessarily recommend our method," Chotiner joked. "We did all of our diligence, but we started planning in early summer for a fall course … the only reason it worked is because we'd done this so many times before, and because we have such a strong relationship with our partner in Florence."
If faculty want to put together a program, they should plan on starting their planning in Spring for the Fall of the following year, says Matt Lockaby, Campus Associate for Education Abroad.
"We recommend faculty start planning early," Lockaby said.
"We were lucky because of our history — we had to figure out what to cut out, not what to do, while we were there," Yaure said.
The pandemic obviously added an element of complexity — but the Robins were highly impressed with Italy's regulations and the support offered by ISI Florence.
"They don't mess around," Chotiner said, speaking of the Italian government's regulations. "You have to show a COVID card everywhere; people are wearing masks where they're supposed to; people are taking it seriously. Tourism makes up a lot of Italy's economy so they are doing everything they can to make people feel safe."
The regulations and expectations were made clear by the Italian government and the embassy. Students understood all of the regulations before they went and followed them.
"They were over-prepared, which is how we like it," said Chotiner.
The Robins were excited to get back to Florence — "we're already packing for our next program!" quipped Chotiner — but it required work and forethought.
"It can be done," Yaure said of running a program during these times. "It's no walk in the park, and it requires a lot of advance planning. But it can be done, and it's so, so worth it if it's done right."
For more information, contact Robin Yaure, program coordinator, HDFS in Florence, professor of teaching, HDFS, Penn State Mont Alto, [email protected], 717-749-6210.