Penn State Mont Alto's Marissa Bubbenmoyer brings activities and smiles to long-term care patients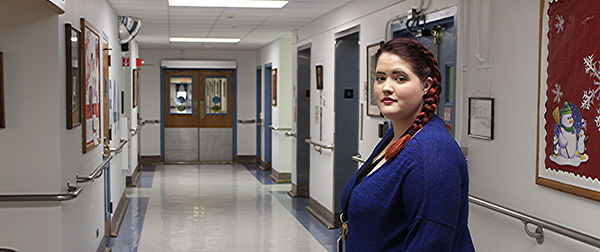 MONT ALTO, Pa. ― Marissa Bubbenmoyer enjoys helping older adults and singing. At Penn State Mont Alto she is doing both through the Human Development and Family Studies (HDFS) program and as a member of the Penn State Mont Alto Student Chorale.
"I love being around elderly people and people who have disabilities because it is what I grew up with," said Bubbenmoyer, whose major is HDFS with the option of adult development and aging services. In spring 2017 she will graduate with an Associate of Science in HDFS.
"I used to go to work with my mom. She's a nurse at two resident homes," she said.
Bubbenmoyer's desire to work with the elderly and to continue in her studies at Penn State Mont Alto led her to HDFS.
"I like people and I like taking care of people, so HDFS was perfect," she said. "Once I saw Mont Alto had a program where I could focus on older adults, I knew that is what I wanted to do."
Bubbenmoyer also likes to sing. "Music is like an escape and I can just let go," she said. As a member of the Penn State Mont Alto Student Chorale, Bubbenmoyer sings both on and off campus and her talent is often called upon for the singing of the "Penn State Alma Mater" and the "Star-Spangled Banner" during major campus events.
"I realized I had a pretty voice while singing Karaoke in the fifth grade," said Bubbenmoyer. "I sang 'God Bless America' and my grandmother's neighbor called her and said, 'You have to listen to this.' My grandmother heard it and started crying and then signed me up for voice lessons," she said.
At Mont Alto, Bubbenmoyer first sang with an a capella group and later joined the Penn State Mont Alto Student Chorale. The group is supported by the Miner Choir Endowment, which was established in 2013 by Kathryn Miner, "who is one of my favorite people," said Bubbenmoyer.
She thoroughly enjoys singing with the Chorale and has had several opportunities to perform solos. In fact, during the Chorale's spring performances, she will sing solos during Tarzan's "Trash the Camp" and Les Miserables' "I Dreamed a Dream."
In her internship, Bubbenmoyer is taking what she has learned in the classroom and applying it to her work at the South Mountain Restoration Center in South Mountain, Pa. ― a long-term care facility operated by the Office of Mental Health and Substance Abuse Services, Pennsylvania Department of Human Services. Many of the residents have co-occurring disorders that include dementia, along with chronic physical and mental problems.
"My goal is to just make them feel like they have someone," said Bubbenmoyer in describing why she finds fulfillment in her work as South Mountain's therapeutic activities services intern.
"For instance, we recently made crafts and it was the first time I heard two people speak and they said their crafts were adorable. They will smile just because they are having someone new interact with them," she said.
In her position, Bubbenmoyer works with the residents both in groups and on a one-to-one basis doing activities that range from sensory stimulation to group exercise, according to Penn State HDFS alumnus Shannon Elizabeth Barrett, South Mountain's therapeutic activities services supervisor. The activities incorporate aspects of therapeutic recreations including physical, emotional, cognitive, social, and community involvement.
Bubbenmoyer enjoys her duties, such as reading to the residents, doing crafts, massaging lotion into their hands and escorting them to meals and community meetings. Of the 150 residents, she may have contact with as many as ninety individuals during one shift.
"I'll sometimes take a rainbow ball and pass it back and forth with them or a balloon or even play cards like Uno or Rummy," she said.
Also a Penn State HDFS graduate, Barrett can appreciate how Bubbenmoyer is applying her studies to her work at South Mountain.
"Along with her degree in aging, Marissa's experience with writing papers helps her in writing assessments and progress notes for our resident documentation," said Barrett.
Bubbenmoyer also draws on her previous experiences in working with the Mont Alto Student Affairs Office by modifying crafts and student activities she helped to coordinate on campus for the residents at South Mountain.
"She came up with the idea of making Valentine's Day cards for our residents and handing them out," said Barrett.
"Marissa is patient, caring, creative, fun, and out-going," said Barrett. "All of these aspects are integral to our job. We spend a majority of our day on the floor with our residents and have to be willing to go the extra mile to keep them engaged and involved in programming. She comes up with great new ideas and the residents love when she comes to the floor," she said.
Following graduation Bubbenmoyer plans to continue singing with the Chorale and looks forward to working in the same field as her internship where she continues to gain experience and confidence.
"Marissa has blossomed as she has been working at her internship," said Robin Yaure, Penn State Mont Alto senior instructor in HDFS. "She sees connections with course material and finds she loves being with the residents of South Mountain Restoration Center. She looks forward to going in every day and helping out with the many fun activities there."