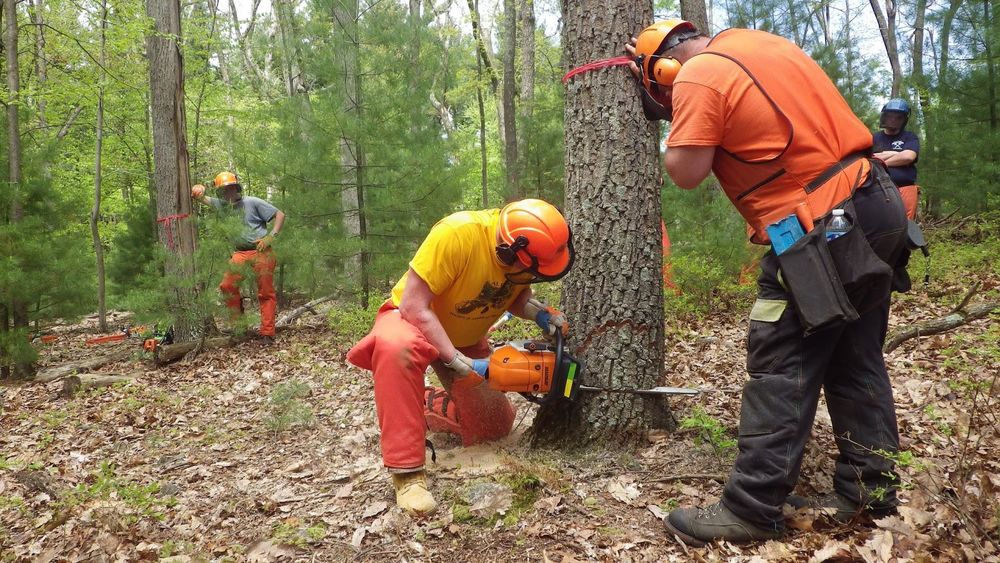 UNIVERSITY PARK, Pa. — On the road to reaching his dreams, Josh Hersl has encountered a few roadblocks and detours.
Yet, as the 35-year-old U.S. Army veteran and Purple Heart recipient looks toward graduation from Penn State's College of Agricultural Sciences in May, he realizes that navigating through those hardships — which included a half-hearted first attempt at college, injury during military service, and the loss of his father — have made him steadier at the wheel.
"When I was little, I dreamed of being a soldier and a lawyer," said the forest ecosystem management major from Hanover. "I thought I blew my chance years ago, but because of the lessons I have learned, I won't be blowing this chance. I accomplished the first dream, and though it has taken me awhile, I am getting closer to reaching the second."
Hersl's journey to fulfilling his goals got off to a rocky start in 2000 as an 18-year-old freshman at Penn State's University Park campus. Looking back, he admits that what he excelled at most was his social life.
"I had a lot of fun during my first experience here," he said. "Maybe too much fun. I took advantage of the social activities that Happy Valley had to offer rather than focusing on my education. As a result, my grades suffered, and I decided to leave Penn State after three years without a degree."
Though Hersl was welcomed home with open arms, he could not shake the feeling that he had let his parents down, especially his father, who Hersl said worked two jobs and took odd jobs here and there to make sure his son and daughter could go to college.
Shortly after returning home, Hersl revisited one of his childhood dreams — to become a soldier — and enlisted in May 2004. As he recalled, "Sept. 11 was still pretty fresh in everyone's minds. I believed that I could serve my country while also getting back my sense of responsibility. I knew I needed to grow up, and I wanted to prove to myself that I could take on a challenge."
That challenge proved to be considerable when, five months into his first tour of duty in Iraq, an enemy truck loaded with bombs exploded near his station. Hersl survived, but not without severe shrapnel and burn injuries that required several surgeries, skin grafts and months of physical therapy.
While on the road to recovery, he was given the option of medical retirement; instead he returned to active duty, going back to Iraq, and then to Afghanistan. While the decision baffled those close to him, Hersl never wavered. "I wanted to prove to myself that I could handle it, and honestly I wanted to finish what I had started."
He would have continued with his military career had it not been for his father's cancer diagnosis in early 2014. After an honorable discharge — and decoration with the Purple Heart for wounds suffered in combat — Hersl helped to care for his ailing father, who succumbed to the disease shortly before Christmas of that year.
As a tribute to his father, Hersl made the decision to go back to Penn State. "I always regretted not earning my degree. I blew my first chance, but my father taught me many lessons about hard work and dedication. I owed it to him to earn my degree."
His return to college in 2015 proved to be just as nerve-wracking as the first time he was a student. "Reinventing yourself in your 30s is just as scary as moving away from home and attending college for the first time at age 18," he said. "Once I got started, I didn't look back."
Hersl's original plan was to earn an associate degree in forest technology — a course of study that was in harmony with his lifelong interest in the outdoors — from the Penn State Mont Alto campus. He succeeded, graduating with a 3.9 grade-point average, which was a stark difference from his earlier college performance.
With encouragement from his mother, sister and the faculty at Mont Alto — coupled with the discipline and confidence he honed during military service — he decided to reach higher and pursue a bachelor's degree, at University Park.
One of his cheerleaders was Beth Brantley, associate teaching professor in the forest technology program at Mont Alto, who saw great potential in the nontraditional student, describing him as intelligent, inquisitive and thoughtful.
"Having Josh in the classroom is what every educator wishes for," she said. "As a veteran, Josh brings discipline and maturity into the classroom; he raises the bar for excellence, and he will go above and beyond the basic expectations of comprehension. He brings the passion and commitment of a life-long learner to Penn State."
On his second go-round at University Park, he embraced the academic experience, maintaining a 3.8 GPA while working as an undergraduate research assistant, forest technician and research technician. He also became involved in student activities, including serving as student representative to the board of directors of the Pennsylvania Forestry Association, and being named president of the Penn State chapter of the Allegheny Society of American Foresters. Hersl received the society's Student Leadership Award in 2017.
In addition, Hersl traveled to Morocco, Costa Rica and India thanks to study abroad programs offered through the college's Office of International Programs and scholarship monies. Seeing first-hand how people in those countries struggle to survive on limited resources restored his earlier interest in becoming a lawyer.
"I saw how much people rely on the ecosystem and the environment in those countries — in some cases, it's a matter of life and death," he said. "Good laws can make a real difference in people's lives. I want to play a role in protecting the environment to make sure our natural resources are used in a way that keeps them here forever. I can help do that as an environmental attorney."
As for how Penn State has shaped his life, Hersl said he could not have achieved his goals without the support of faculty, staff and peers at the Mont Alto campus and in the College of Agricultural Sciences, revealing that they all "helped me reach my full potential."
While it would be easy for him to have a "would have, could have, should have" mindset about the past, Hersl is at peace with where he is today — preparing for graduation, applying to law schools and planning to fill the time in-between by working with the High Atlas Foundation in Morocco, a nonprofit dedicated to sustainable, community-initiated development.
The only lament he has is that he is not able to share these triumphs with his father.
"But I know he's with me in spirit, and that he's proud," Hersl said.