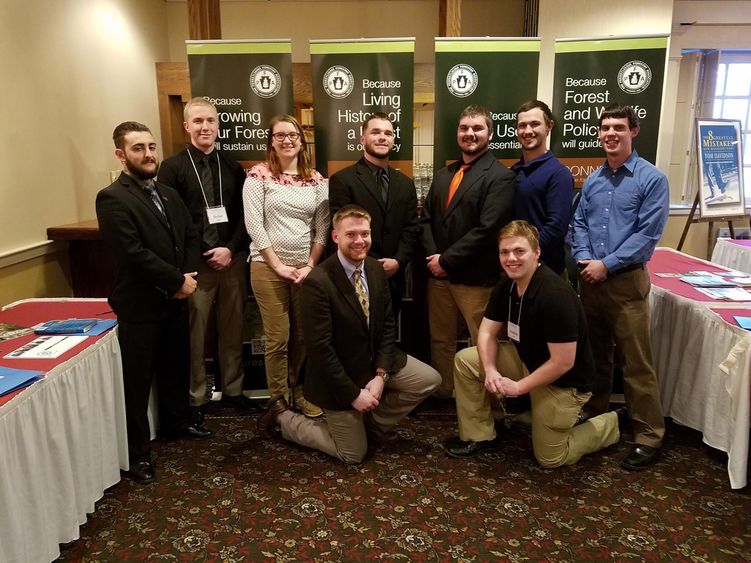 UNIVERSITY PARK, Pa. — A summer internship with the Pennsylvania Game Commission helped Penn State senior Dominic Lenzi cultivate his skills in the field of forestry.
Lenzi, of Hermitage, a forest ecosystem management major in the College of Agricultural Sciences, learned about the internship when attending last year's Ecosystem Science and Management Career Fair. This year's career fair is set for 10 a.m. to 3 p.m. on Feb. 28 in the Forest Resources Building atrium.
As a Game Commission intern in the northwest region, Lenzi said every day brought something new. He and another intern worked with a forest technician doing a wide variety of jobs, such as marking boundary lines for several thousand acres of timber sales, recording plot data, and performing global positioning system work and crop tree release.
He explained that crop tree release essentially is giving specific trees more space to grow by trimming back the vegetation around them.
"In an acre of space, we would choose between 20 and 50 trees that were the best ones for our current objective," he said. "Then we'd trim back the other growth around them to give these trees more sunlight and growing space."
The game commission primarily was focusing on the oak population, as the young stands of oak trees tend to get pushed out because other tree species grow faster, Lenzi pointed out.
Another part of the internship was prescribed burning to help with forest management. Lenzi found the process fascinating.
"First, a piece of machinery digs a fire line around the perimeter of the burn area, then a fire is spread with drip torches," he said. "The mix of gasoline and diesel fuel creates a low fire that burns only what's on the ground and doesn't really affect the mature trees."
Lenzi added that oaks respond well to fire. The tops of the young trees may burn, but if they are about waist high, the trees will sprout back straighter and faster. These prescribed burns can help control invasive species, but sometimes the roots and seeds survive even if the plants burn.
Lenzi came to the University Park campus after earning an associate degree in forest technology from Penn State Mont Alto. Aside from the change in class sizes between the campuses, he said this transition was seamless.
"The professors and the classes at Mont Alto gave me a strong foundation that has helped me succeed at University Park," he said.
He noted that the professors within the Department of Ecosystem Science and Management truly are dedicated to helping their students flourish.
"The faculty and staff within the department are really good about passing along information and letting you know when there are job or internship opportunities in your area of interest," he said.
Lenzi is a member of the Penn State chapter of the Society of American Foresters, which is a professional organization affiliated with the national Society of American Foresters. Last fall, he was elected to be the student representative on the board of the Pennsylvania Forestry Association, which is a subsidiary of the national society.
As the student representative, Lenzi attends meetings, relays important information back to the student chapter, and requests funds for the club to travel to society meetings. Last year, he and five other students traveled to Portland, Oregon, for a conference on policy.
In addition to information sessions, the students could attend an information fair with several graduate schools and employers looking for forestry students.
"It was a great event. We had a lot of fun, learned a lot, and I know that at least two of my fellow students received job offers at the conference," Lenzi said.
As he winds down his senior year, Lenzi is looking to apply for a forest technician position with the state. As during his internship, he would be marking timber, treating invasive species and completing other forest maintenance in state parks, national forests and state game lands.
"There are lots of opportunities in the industry, and I'm really looking forward to this next chapter of my life," he said.