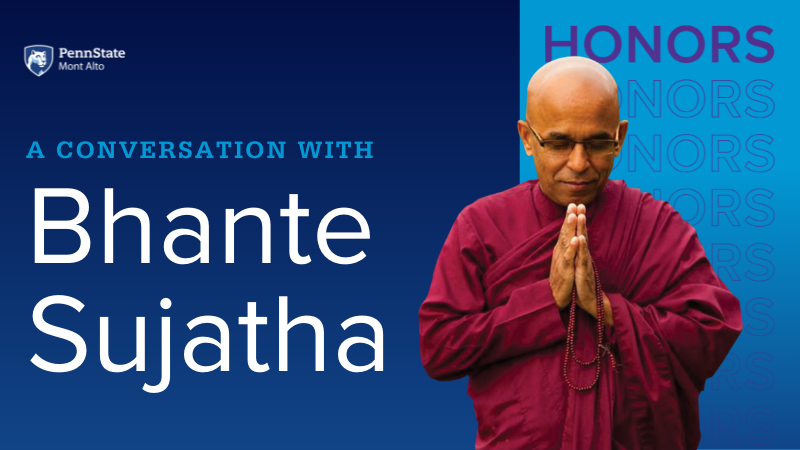 The Venerable Bhante Sujatha, a Buddhist monk, will make his annual visit to Penn State Mont Alto on April 27, to show people how daily life can be a powerful form of meditation.
Sujatha will be on campus from 10:10 a.m. to 1:10 p.m., and the public is invited to attend two of his talks during his visit: 
10:10 to 11 a.m.: Classroom visit and discussion, General Studies Building, Room 201
12:20 to 1:10 p.m.: Public presentation in the campus library
Sujatha has visited Mont Alto every year since 2010 — in 2021, he visited virtually due to the COVID-19 pandemic — as one of many culturally enriching opportunities offered at Penn State Mont Alto.
Guests attending either or both of Sujatha's talks should park in the Green Lot at the main entrance to campus; handicapped-accessible parking is available at the General Studies Building and Conklin Hall. At this time, all individuals, regardless of their vaccination status, are required to wear face masks in classrooms while class is in session; masks are not required in common areas on campus.  
A native of Sri Lanka, he began the monastic life at age 11. The rigorous training he underwent, he said, taught him how to get along with people anywhere in the world and how it is easier to handle people's issues and personalities when you can get a grasp on your own. 
In 1993, he left Sri Lanka for Brisbane, Australia, where he taught meditation and Buddhism. Four years later, he accepted the invitation of one of his former teachers to join him in the United States. He relocated to the Midwest, where he helped establish the Great Lakes Buddhist Vihara in Southfield, Michigan.
The next stop on his life's journey was Illinois, where he pursued a degree in psychology at McHenry County College and started a meditation class at a Unitarian church in Woodstock, Illinois. There, the Blue Lotus Buddhist Temple and Meditation Center was established. Sujatha said he believes his job is not only leading meditation but teaching people how to be happy. He said he aims to show how work can be a spiritual practice, allowing individuals to enjoy whatever they are doing in the moment, instead of worrying about the future or past.
For more information about the spiritual leader of the Blue Lotus Temple, visit bluelotustemple.org/bhante-sujatha. In November 2015, Sujatha founded the Blue Lotus Temple in Pennsylvania in Carlisle, Pennsylvania, led by Pennsylvania Abbott Bhante Somananda.  
For more information about Sujatha's visit, contact Kira Hamman, director of the Honor's Program and assistant teaching professor of mathematics at Penn State Mont Alto, at [email protected] or 717-749-6029.