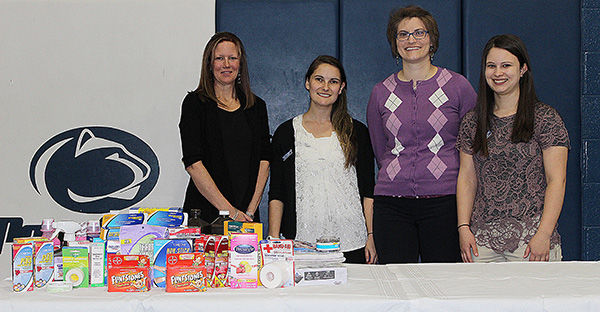 MONT ALTO, Pa. — Members of the Penn State Mont Alto Nurses Club collected pediatric supplies for the Heaven's Angels Pediatric Clinic, which provides children affordable medical care in Haiti.

Julie Reichard, a 2014 Mont Alto alumna and nurse, moved her family to Haiti to set up the clinic and serves as its director. Her friend and former classmate, Mont Alto nursing student Desma Welch (Class of 2016), accepted the supplies on behalf of Reichard and will help to deliver them.
"We want to give back to the community the best way we can," said Stacie Freedman, club president, in talking about why club members settled on this project.
"With Julie being a nurse, we wanted to help her and know that she does not have access to supplies [in Haiti] like we do here. So, we asked her what kind of supplies she needs and she was grateful," said Freedman.

Club members collected the supplies for four weeks during spring 2016. They distributed a flyer asking for donations, posted a request on their Facebook page, and provided a box for donations near the nursing program classrooms in Penn State Mont Alto's Science Technology Building.

Heaven's Angels Pediatric Clinic is supported by Freedom Global Outreach, a Christian ministry that rescues and cares for orphaned and abandoned children in Haiti.