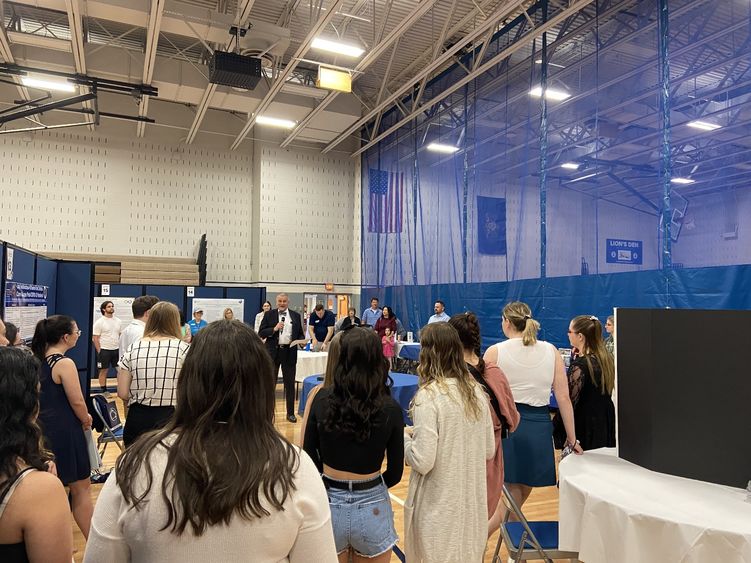 MONT ALTO, Pa. -- Exhibits, posters and interactive displays were abundant at last week's Academic Festival, held on Friday, April 21.
Seventy-four student presenters shared 26 different information exhibits, research posters and oral presentations. More than 160 faculty, staff and guests swarmed the Multipurpose Activity Center to learn about the participants' projects throughout the day.
Fifteen judges were present at the event to review projects. With top-quality projects, they struggled to pick final winners, ultimately announcing several ties. Winners of the festival were granted $1,300 or more in prizes.
The 2023 event was made possible thanks to the generous support from the Owls Club, Student Activity Fee, Penn State Mont Alto Alumni Society and Penn State Mont Alto faculty and staff.
Thank you to the organizers who spent months planning the festival, to the faculty who mentored and worked with students on their undergraduate projects, to the folks in physical plant who helped with the setup, to Housing and Food Services for the refreshments, and to everyone who attended.
Student projects are available to view online at ScholarSphere.
2023 Winners:
Informational Exhibits
Third place: "Physics of Cornhole" - Grace Banfe, Connor Houston, Aleesha Cramer, Camryn Yeager     
Second place: "Interactive Entertainment: A Peek into the World of Twitch" - Austin Noll    
First place: "The Penn State Mont Alto Virtual Tour" - Heston Hanafy Harvey, Jonathan Wright, Michael Liam Scott, Noah Edward Mulka, Jon Paolo Sadsad Dimaculangan    
Research Projects
Third place: "Decreasing Contamination of Blood Cultures in the Emergency Room" - Caitlyn King, Mackenzie Leigh Casey, Robby McDonald, Amanda Krug
Second place: "Maternal Mortality in African American Women" - Helena Johnson
First place: "Psychological Safety and a Sense of Belonging" - Rebecca Renae Brown
Oral Presentations
Tie: "Mental Health Differences and Motor Vehicle Accidents" - Charli Catherine Nowak
Tie: "Nursing Care of Children with Intellectual and Developmental Disabilities" - Maegan Aleshire
University Libraries Award for Information Literacy
Tie: "Maternal Mortality in African American Women" - Helena Johnson
Tie: "A Change in Code: Status with Influence of Family Presence" - Sonia Maria Holter, Jessica A Goshorn, Alvin Chien Liu, Ellison Grace Rush
Sustainability Award
First Place: "Nursing Care of Children with Intellectual and Developmental Disabilities" - Maegan Aleshire