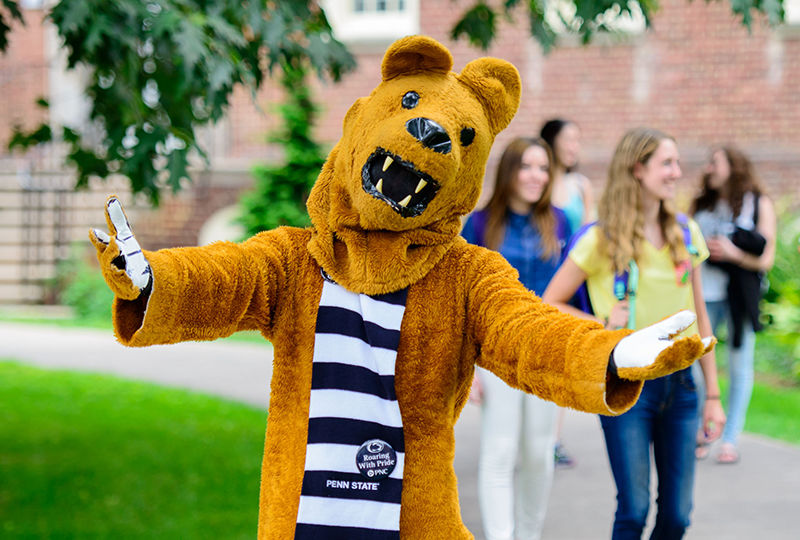 As part of our regular "We Are!" feature, we recognize 10 Penn Staters who have gone above and beyond what's asked of them in their work at the University.  
This week, on behalf of the entire Penn State community, we'd like to say thank you to: 
John Brennan, director of continuing and community education at Penn State DuBois, whose nominator wrote: "John is the definition of what a true Penn Stater is. He loves Penn State, the DuBois campus and the people and communities that he serves. He tirelessly works not only to achieve his goals, but also to help others achieve theirs, often without proper recognition. John is a true asset to Penn State." 
Amy Cook, human resources consultant at Penn State Behrend, whose nominator wrote: "Amy is a bright light in the not-so-glamorous world of HR. She is always ready to answer your questions or help however she can. She works tirelessly to find the answers that you need. She is a valuable part of our campus." 
Austine Decker, multidisciplinary proposal developer in the Strategic Interdisciplinary Research Office, whose nominator wrote: "Austine is a master of proposal development! She goes above and beyond in finding ways to improve our processes and help people at Penn State. She continues to impress and inspire everyone around her!" 
Jill Fox, associate director of Residence Life at Penn State Behrend, who received multiple nominations. The first nominator wrote: "Jill has been instrumental in our transition to Behrend and adapting to a new ResLife Coordinator team. Her happy and uplifting attitude always brightens our days. She's willing to provide guidance and support, and to help us grow. I'm grateful for her unwavering support and I am eager to learn more from her!" Another nominator wrote: "Jill always goes above and beyond, not only for the students on campus but also her staff. Jill deserves to be recognized for the countless hours and dedication she puts in for Behrend's Residence Life." 
Randy Ingbritsen, assistant director of continuing education at Penn State Abington, whose nominator wrote: "Randy genuinely cares about the students he serves, often listening and providing words of encouragement to students that doubt their abilities or are balancing school with work and life responsibilities. In addition, Randy is always willing to share his wealth of knowledge with his colleagues." 
Kalina Kelley, administrative assistant for the Science Education Collaboratory in the Eberly College of Science, whose nominator wrote: "Thank you to Kalina for always going the extra mile to collaborate and support our team members with our various projects. She goes above and beyond to support all of us and is always willing to learn something new. Kalina is a valued team member!" 
Jayson Loeffert, physician at Penn State Health, whose nominator wrote: "Dr. Loeffert is Penn State Harrisburg's medical director, contracted from Penn State Health Middletown. He serves our students with such dedication, patience and compassion. I have personally seen him go above and beyond to support the students' medical needs. He is truly an asset to our campus." 
Jennifer McCutcheon, financial assistant at Penn State Greater Allegheny, whose nominator wrote: "Jen goes out of her way to meet our students and help them make connections to other employees and campus resources. Recently, she invited campus employees to donate mugs for an event at which students could learn about the services we offer. She cares deeply for our students and their success." 
Daniel Mercado, director of academic support and advising at Penn State Harrisburg, whose nominator wrote: "Daniel continually showcases care for student success by creating systems that allow advisers to work more effectively for their students. Daniel creates a positive environment in the advising center that focuses on exemplary student academic support."   
Melanie Wheeler, assistant teaching professor of occupational therapy and science at Penn State Mont Alto, whose nominator wrote: "Mel is passionate about all aspects of being a Penn Stater — as a two-time alumna (classes of 1998 and 2004), her role as an educator and a mentor to occupational therapy and science students as well as peers! She embodies a level of integrity, commitment and kindness all of us should aspire to do, be and become!" 
Connor Witkowski, a second-year student studying history and student employee in the Office of Strategic Planning and Communications at Penn State Greater Allegheny, whose nominator wrote: "Connor has gone above and beyond in his work study position. He meticulously organized all our photo and document archives, all while preparing these historical materials for our 75th anniversary event. His exceptional efforts showcase his commitment and diligence." 
Thank you John, Amy, Austine, Jill, Randy, Kalina, Jayson, Jennifer, Daniel, Melanie and Connor — and to everyone who helps make Penn State such an incredible community! 
Do you know a Penn Stater who deserves a shoutout? If you do, consider nominating that individual by filling out a short online form.