Lavish, five-day event at Persepolis crystallized opposition against Shah of Iran's regime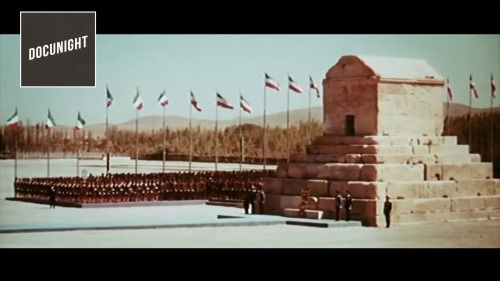 UNIVERSITY PARK, Pa. – No expense was spared when the Shah of Iran spent the entire state budget, more than $600 million, on a party to celebrate 2,500 years of the Persian monarchy. The latest Docunight film, directed by Hassan Amini, suggests that the extravagant, five-day event would change world history, crystallizing opposition to the Shah's regime and sparking revolution.
"Decadence and Downfall – The Shah of Iran's Ultimate Party," the May selection for the "Docunight: Iran via Documentaries" series, will be shown at 7 p.m. on May 3 in 102 Foster Auditorium, 102 Paterno Library, University Park campus and at Mont Alto campus in the Mont Alto Campus Library. Co-sponsored by the Iranian Student Association and Penn State University Libraries, Docunight events are free and open to the public.
Released overseas in 2016 and aired by the British Broadcasting Corporation, "Decadence and Downfall," includes footage from the processions and party held in the constructed oasis of pink silk tents at Persepolis. As royal guests and dignitaries dined at a five-course banquet with wine chilled by car-sized blocks of ice brought in by helicopter, resentment was building among the Iranian people.
Amini's documentary includes photos and interviews with contributors who planned various aspects of the lavish event. He adds context through commentary by the Shah from interviews, the stories of an arrested student leader and the struggles of a nation and people forgotten.
The Docunight series is an initiative to encourage cultural exchange and understanding of Iran through documentaries. The films are about, around, or in Iran, or made by Iranians, and the American showings are part of a collaboration with the National Iranian American Council.
For more information on this event, or for questions about accommodations or the physical access provided, contact Mark Mattson, global partnerships and outreach librarian, at 814-863-2480 or [email protected] in advance of the event.