2:1 University match through Open Doors Scholarship Program amplifies impact, ends June 30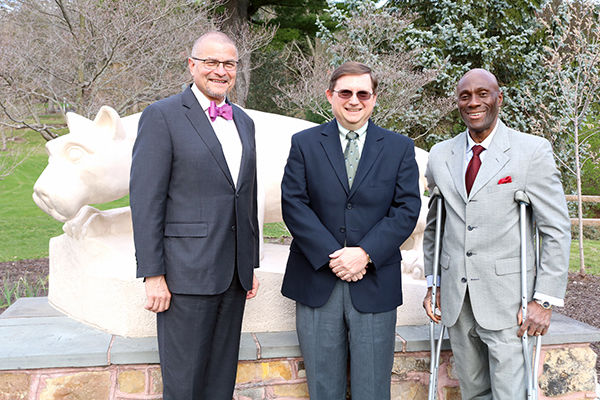 MONT ALTO, Pa. ― Under the leadership of Chief Executive Officer and President Robert "Bob" J. Fignar, Penn State class of 1985, The First Community Bank of Mercersburg has established a new scholarship for Penn State Mont Alto students with financial need. Through the Open Doors Scholarship Program, First Community Bank's gift of $30,000 will earn a 2:1 match, creating a $90,000 scholarship endowment to support Mont Alto students.
For a limited time during the second year of Penn State's campaign, "A Greater Penn State for 21st Century Excellence," the University is offering a unique opportunity for alumni and friends to multiply the impact of their philanthropic gifts.
"By funding a new Open Doors Scholarship, philanthropic partners ensure that a Penn State degree remains accessible and affordable to students from every economic background," said Randall Ackerman, Penn State Mont Alto director of development.
In 2017, the Mont Alto Campus awarded more than $521,000 in scholarship support to more than 41 percent of its student population. The Open Doors Scholarships will provide even more support to students with financial need.
"First Community Bank's commitment to create a need-based scholarship is at the very heart of the Open Doors Scholarship effort, and we are deeply grateful for their generosity and others who are also establishing scholarships," said Ackerman.
Fignar, who also serves as a Penn State Mont Alto Advisory Board member, first learned about the campaign and the matching opportunities offered through the Open Doors Scholarship Program during a board meeting in January and brought the idea back to staff members at First Community Bank.
"We consider this an opportunity to help provide local students an education," said Fignar, a Penn State Mont Alto alumnus. "As our local market continues to develop through economic expansion by national and international companies, the need for employees with quality educational backgrounds continues to increase. This scholarship will assist many local students with achieving their dreams of a Penn State education, which in turn will improve our local communities."
First Community Bank of Mercersburg is one of six donors to recently establish Open Door Scholarships at Penn State Mont Alto. Others include:
Dr. David C. and M. Marie Gnage
Cumberland Valley Tree Service-Landscaping, George and Lisa Pogue
Dr. William L. and Peggy J. Hoover
Joseph T. and Deborah K. Kearse
The Barkdoll Family
"The Penn State Mont Alto community is fortunate that the First Community Bank of Mercersburg and others have made such generous gifts to our campus," said Penn State Mont Alto Chancellor Francis K. Achampong. "This creates opportunities for students with limited financial means and unlimited potential and I hope it inspires others to consider how they, too, can make a difference for our students."
The Open Doors Scholarship Program offers a 2:1 match from University funds for private gifts to endow scholarships for undergraduates with financial need who are enrolled in the University's Open Doors programs, designed to help students overcome the obstacles they may face in earning a Penn State degree. This 2:1 matching opportunity will remain in effect for commitments of at least $30,000 that are initiated by June 30, 2018.
This gift from The First Community Bank of Mercersburg will advance "A Greater Penn State for 21st Century Excellence," a focused campaign that seeks to elevate Penn State's position as a leading public university in a world defined by rapid change and global connections. With the support of alumni and friends, "A Greater Penn State" seeks to fulfill the three key imperatives of a twenty-first-century public university: keeping the doors to higher education open to hardworking students regardless of financial well-being; creating transformative experiences that go beyond the classroom; and impacting the world by fueling discovery, innovation and entrepreneurship. To learn more about "A Greater Penn State for 21st Century Excellence," visit greaterpennstate.psu.edu.
To learn more about establishing a scholarship or making a gift to Penn State Mont Alto, contact Development Director Randall Ackerman at 717-749-6116 or email [email protected].