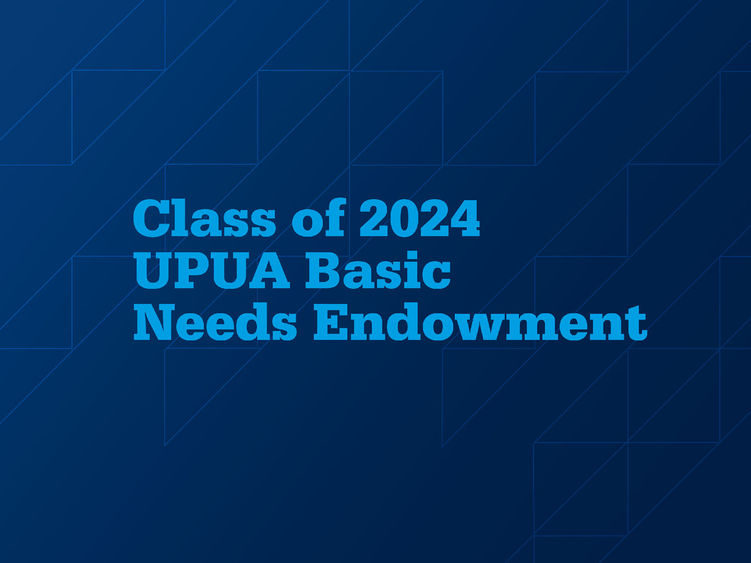 UNIVERSITY PARK, Pa. — At an event held on Oct. 31, leaders from the Student Philanthropy Network announced that the class of 2024 has voted to create the University Park Undergraduate Association (UPUA) Basic Needs Endowment as their class gift. The fund will provide sustained support for students facing hardships in pursuit of their degree.
Penn State students graduating in 2024 selected this endowment from a ballot of three options. These were narrowed down by a selection committee from a larger list of nominations submitted by University community members earlier this fall. The other two finalists included the Endowment for Student Success and the Endowed Scholarship for Adult Learner Support. "This year we had many creative and impactful gift nominations submitted, proving — once again — how thoughtful and engaged our Penn State community is," said Ashley Campos, the 2024 Class Gift campaign coordinator.
With the partnership of the Office of Student Care and Advocacy, University Park students with identified need will have the opportunity to receive support from the UPUA Basic Needs Endowment. This may include students facing an emergency (family, medical, housing, food and more) and will be allocated based on specific need-based requests made by students at any point during the academic year.
In addition to remarks from student leaders, David J. Lieb, Penn State's interim vice president for development and alumni relations, offered words to the class of 2024 during the announcement.
"Your class' decision represents your shared commitment to enhancing the well-being of the people who call Penn State home, today and in the future," he said. "Fellow Penn Staters whom you may never know or meet will benefit from your kindness all the same. I am truly inspired by your decision and the kindness expressed by this selection."
Members of the Class Gift Campaign will be soliciting gifts through events and emails from students graduating in May, August or December 2024, and the organization will be hosting a fundraising campaign later this fall as a part of Penn State's GivingTuesday celebration. This year's effort is driven by Campos; Conor Kelley, Student Philanthropy Network president; Emma Pulkowski, Student Philanthropy Network vice president; Molly Gibbard, philanthropy coordinator; and the full roster of Student Philanthropy Network members.
"I feel so grateful to be a part of something that holds such a special place in Penn State's history," said Kelly of the 2024 Class Gift Campaign's effort. "It's an honor to play a role in creating our class legacy, and I know that the impact of our gift will continue to be felt by future generations."
Those interested in donating to the 2024 Class Gift can do so by texting "ClassGift2024" to 41444 or giving online at raise.psu.edu/ClassGift24. Questions can be directed to Anna Wood, class gift adviser, at [email protected].
Gifts made to the 2024 Class Gift will advance the University's historic land-grant mission to serve and lead. Through philanthropy, alumni and friends are helping students to join the Penn State family and prepare for lifelong success; driving research, outreach and economic development that grow our shared strength and readiness for the future; and increasing the University's impact for families, patients and communities across the commonwealth and around the world. Learn more by visiting raise.psu.edu.