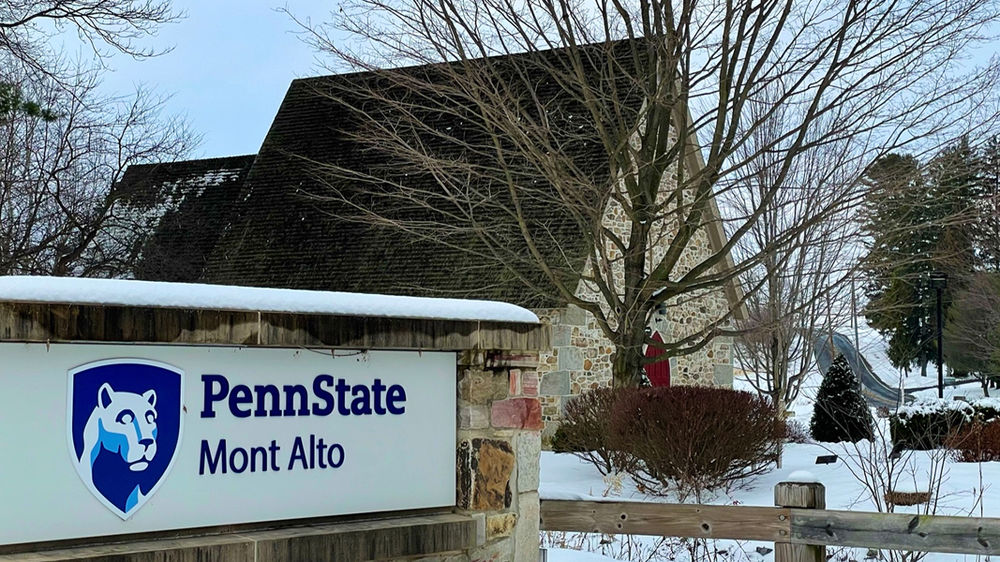 Undeterred by a pandemic and a tumultuous economy, Penn State Mont Alto's financial supporters committed more than $449,000 in the last three months of 2020.
"Despite the challenges associated with the pandemic, Penn Staters continue to be very generous," said Randall Ackerman, director of campus development at Penn State Mont Alto and a 1983 alumnus of Penn State.
During October, November, and December of 2020, the Mont Alto campus received commitments totaling $449,566, bringing the Mont Alto campus within 87% of its goal toward the "A Greater Penn State" campaign that began in July 2016.
"It was certainly a team effort on Mont Alto's part to engage with our donors," Ackerman said.
The gifts will support a variety of campus needs and initiatives, including nursing faculty support, the Student Hardship Endowment, Lion Pantry Endowment, the Mont Alto LaunchBox, scholarships and the campus veteran's memorial.
Among those who contributed to Penn State Mont Alto were Jeff and Margaret Stouffer of Greencastle, Pennsylvania. When their sons Adam, 31, and Ben, 28, were students at Greencastle-Antrim High School, they took advantage of the Penn State's dual enrollment option and completed college-level courses at the Mont Alto campus. This led to what Margaret described as a "natural rollover" after high school, with both sons enrolling at the Mont Alto campus. Adam transitioned to University Park and Ben earned his degree at Penn State Mont Alto.
Jeff's ties to Penn State go back a few more generations. His brother studied for two years at the Mont Alto campus and two at the University Park campus, and his father and grandfather did post-graduate work at University Park.
"We've just seen all that Mont Alto does," Margaret said.
The Stouffers' $50,000 gift will support the campus in several ways:
Half of their pledge will fund the Stouffer Family LaunchBox Endowment and will be matched 1:1 by Penn State to create a $50,000 endowment at Mont Alto. It will help support entrepreneurs at various stages of developing their businesses.
Jeff's interest in supporting entrepreneurship harkens back to his days as an educator in Washington County, Maryland, where he was principal of the Washington County Technical High School and the Public Service Academy offered through Washington County Public Schools. Several of his former students started their own businesses, and he wanted to help others do the same.
"That's good for society," he said of assisting entrepreneurs, whose businesses create jobs and help communities prosper.
The Stouffers allotted $5,000 of their financial gift to underwrite the purchase of webcams for the General Studies Auditorium, making the space ideal for Zooming in groups.
The final $20,000 of the couple's gift was added to the Stouffer Family Scholarship that they created four years ago. Funds are awarded to high-performing students with financial need who are studying in areas the Stouffers' sons explored, including education, business, human development and family studies, and occupational therapy.
The Stouffers' support of higher education was inspired by Jeff's parents, who were educators in Chambersburg and established a scholarship through Chambersburg Area Senior High School for financially challenged students who want to pursue teaching degrees in college.
"That was a role model for us," said Margaret, who retired in 2018 as a kindergarten teacher at Greencastle-Antrim Elementary School after a more than 32-year career with the Greencastle-Antrim School District in Pennsylvania. She serves on the volunteer Campus Campaign Committee and now works at Jan Zell Wines in Chambersburg, Pennsylvania.
"This is a really good way to give back to young people and society," Jeff said.
Other noteworthy pledges made in the fourth quarter to Penn State Mont Alto include:
● A Mont Alto forestry alum from the Class of 1958 made a $150,000 estate gift commitment to the campus. When the estate is executed, the gift will be split equally between the Penn State Mont Alto Forestry Class of 1958 Open Doors Scholarship and the Mont Alto Arboretum Program Endowment. The donor has requested to remain anonymous.
● A $50,000 gift to fully fund the Mont Alto campus' second Educational Equity Scholarship. Penn State will match that gift 1:1 as part of its Educational Equity Matching Scholarship Program, creating a $100,000 endowment. It will provide financial support to underrepresented student populations attending Penn State Mont Alto. The donors for this gift have also requested to remain anonymous.
The Stouffers encourage anyone interested in supporting Penn State Mont Alto to contact Ackerman or Mont Alto Chancellor Francis K. Achampong to discuss the campus' greatest areas of need and how they can make an impact.
"What each person can do is different, but there's no gift that's too small," said Margaret.
For more information about supporting Penn State Mont Alto, email Ackerman at [email protected] or call 717-749-6116.
Gifts to the campus will advance "A Greater Penn State for 21st Century Excellence," a focused campaign that seeks to elevate Penn State's position as a leading public university in a world defined by rapid change and global connections. With the support of alumni and friends, "A Greater Penn State" seeks to fulfill the three key imperatives of a 21st-century public university: keeping the doors to higher education open to hardworking students regardless of financial well-being; creating transformative experiences that go beyond the classroom; and impacting the world by serving communities and fueling discovery, innovation and entrepreneurship. To learn more about "A Greater Penn State for 21st Century Excellence," visit greaterpennstate.psu.edu.