Simulation helps students and others understand barriers formerly incarcerated face when returning to the community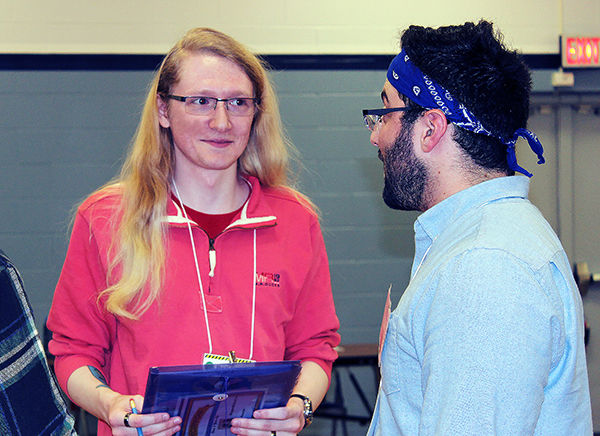 MONT ALTO, Pa. — "I was on probation. I paid it off and was doing good for myself but then, apparently, there was a gun at my house and I got framed," said Dakota Vallelonga, a human development and family studies student at Penn State Mont Alto. He had just been arrested and taken to an imaginary jail during the Roadblocks to Re-entry simulation hosted at the Mont Alto campus on Oct. 17.
"Returning to the community after being incarcerated can often be a complex transition," said Patricia Gochenauer, Penn State Mont Alto Career Services counselor. "Many struggle with employability, limited housing options, substance use, and mental health issues."
The simulation was co-sponsored by Penn State Mont Alto and Shippensburg University and facilitated by Franklin Together, a member of the South-Central Community Action Programs (SCCAP), whose mission is to empower families and engage the community to pursue innovative and effective solutions to break the cycle of poverty. Students, health care administrators, and others participated.
"This program is ideal for our students who will, at some point, work with this population when they enter their internships and the workforce," said Gochenauer.
Each participant was given a scenario to live the life of a formerly incarcerated individual or a family member of someone formerly incarcerated for a month, trying to start life anew. They experienced such difficulties as looking for a job, paying for rent and buying food on a limited budget, finding transportation, and obtaining child care.
Re-entry efforts not only play an important role for those trying to transition to public life but also help Franklin County residents. Franklin County has the third highest population of ex-offenders being released from incarceration in the state, and creating successful re-entry programming enhances public safety, according to the Franklin County Re-entry Coalition website.
In addition, the majority of Franklin County residents' tax dollars are spent on crime, courts and corrections, with about 82 cents from every tax dollar going to this category, according to data from Franklin Together.
On a national level, 95 percent of those incarcerated in the United States will eventually be released back into the community. Of those released, approximately 65 percent will re-offend and return to prison within three years of their release, according to a 2015 report by crime policy analyst Nathan James.
After doing some research, Shakir Alexander-Noah, who studies social work at Shippensburg University, realized there are few resources for elderly African-American males, and the simulation was an opportunity for him to gain a deeper understanding of what they go through.
"For older African-American men who were incarcerated in the '70s and '80s, and just getting out of prison, it is a whole different lifestyle change. I don't think we take into consideration the kind of adjustment phase they have to go through," he said. "We just kind of throw them into the water and expect them to swim right away.
"I feel like this will give us a more hands-on feel for what they have to go through day-to-day and help me understand what I can do to advocate for them. I know it will be a long journey, but it is something."
For more information, about Roadblocks to Re-entry, visit FranklinTogether.org.
More photos of the event are available here.