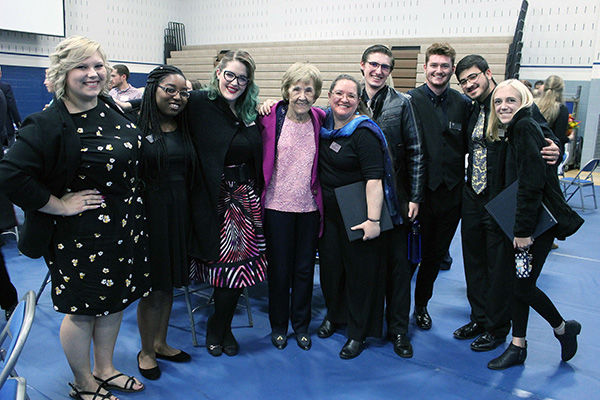 MONT ALTO, Pa. — On Oct. 19, Penn State Mont Alto's 23rd annual Scholarship Social brought 140 donors and scholarship recipients together for a celebration that included good food, inspiring words of gratitude, and the musical sounds of the Mont Alto Chorale.
"Financial generosity brings us all here tonight," said Penn State Mont Alto finance major and scholarship recipient Derek Walters as he stepped to the lectern.
"So, let me be the first to say thank you! Thank you to everyone in this room who understands financial challenges and who supports Mont Alto's scholarship program. Thank you for believing in each of us, and thank you for providing us the opportunity to be successful," he said.
Walters said he chose to attend Penn State because it provides a world-class education, but discussions with his parents about the cost were stressful. Scholarship support from Penn State Mont Alto helped ease his family's financial concerns.
"It's because of the generosity of F&M Trust, generous couples like Vernon and Elaine Shockley, along with the many other donors who are supporting scholarships, that it is possible for students at Penn State Mont Alto to proudly earn their Penn State degrees," he said.
The evening's featured speaker was former Penn State Mont Alto Chancellor David Gnage, who was warmly welcomed by friends and former colleagues.
During summer 2017, he and his wife, Marie, established an Open Doors Scholarship, and he explained why.
"First we believe that the quality of our community and the strength of our society depends on the strength of our economy. And that depends, in the long run, on the overall education of our citizens," he said.
The Gnages also believe in kindness and the power of giving back, which Gnage demonstrated by telling the story of 1939 Mont Alto alumnus Al Kligman, a friend he met during his time at Mont Alto.
The son of Jewish immigrants, Kligman grew up the 1920s and '30s and was too poor to attend the then-Forest Academy. With the help of the academy's director, his fees were covered if Kligman was "willing to shovel coal in the furnaces and wait on tables in the cafeteria," said Gnage.
Kligman went on to earn both his forestry and biology degrees from Penn State and eventually became a medical doctor, who invented Retin A, a skin cream that repairs sun-damaged skin. After becoming a financial success, Kligman established an endowed scholarship that continues to support Mont Alto students who can't fully afford the cost to attend college today.
"That one act of kindness by the Mont Alto director to help Al with his college finances has been multiplied many times and is still touching lives today," said Gnage.
Lastly, Gnage said he made a gift because the Open Doors Scholarship was matched 2:1 for a short time by the University, tripling its impact.
Currently, Penn State Mont Alto has 94 endowments — not yet including those announced during the evening — which awarded 335 scholarships this year, totaling $553,178, according to Chancellor Francis K. Achampong.
"Those who have a college degree earn more over their lifetimes and fare better during recessions," Achampong said, speaking about the value of a college degree. "They are less likely to lose their jobs during a recession and more likely to rebound if they do. They are also more engaged in our democracy.
"And that is why private philanthropy is so critically important in making a college education accessible and affordable to many who would not otherwise be able to afford it."
Christina Yoder, Penn State Mont Alto volunteer campaign committee vice chair for "A Greater Penn State for 21st Century Excellence," reported on the success of the campaign.
"Penn State's goal is to raise $1.6 billion dollars over five years," she said. "About 46 percent of the campaign has elapsed, and I am thrilled to share that thanks to the good work of our campus development staff and hard-working campaign committee and the generosity of many, Mont Alto has achieved 67 percent of its $4 million campaign goal, having raised more than $2.6 million dollars in just 27 months."
Development Director Randall Ackerman asked those present to stand and be recognized as he announced 13 major gifts received this past year.
"Ten gifts create new Open Doors Scholarships. These gifts will be matched with University funds 2:1, multiplying their impact toward students in perpetuity," said Ackerman.
"I am happy to share that these gifts represent $1,045,000 being added to Mont Alto's campus endowment and will support students for years to come. That is cause for celebration!"
The evening closed with a performance of the Penn State Mont Alto Chorale singing a selection of up-beat music under the direction of Music Instructor J. Frederick Davison. The Chorale's performances have been made possible by the Miner Choir Endowment, established in 2013 by Kathyrn Miner.
Recent major gifts to Penn State Mont Alto:
Open Doors Scholarships (need-based), matched 2:1 by the University through June 30, 2018.
Brian and Carranda Barkdoll ($30,000)
Cumberland Valley Tree Service-Landscaping, George and Lisa Pogue ($30,000)
Randolph Ehrenzeller and Patricia McGuire-Ehrenzeller ($30,000)
First Community Bank of Mercersburg, Robert (Bob) Fignar, president and CEO ($30,000)
Robert and Rebecca Foor ($30,000)
David C. and M. Marie Gnage ($30,000)
Joseph T. and Deborah K. Kearse ($30,000)
The Class of 1958, Chuck and Carol Strauss, Ralph Heilig and Marie Wolson, George Siehl, Lou and Bobbi Shain, John Zimmerman, Ralph and Gisela Peace, Pat Werner, Rolph Anderson, Richard and Dorothy Hunter, Bob Slagle, Maurice and Irene Hobaugh, Paul Shogren (Class of 1951), and faculty members Craig Houghton and Elizabeth Brantley ($34,203)
William L. and Peggy J. Hoover ($50,000)
Jeff and Margaret Stouffer ($50,000)
Other endowed funds:
Nicholas and Linda Sainato — Professor Gordon Bowker Program Fund for Forest Technology and Engineering ($25,000)
Ken and Bonnie Shockey — Miner Choir Endowment ($25,000)
Marilynne Stout — Penn State Mont Alto Lion Pantry to support student food insecurity ($25,000)
"A Greater Penn State for 21st Century Excellence" is a focused campaign that seeks to elevate Penn State's position as a leading public university in a world defined by rapid change and global connections. With the support of alumni and friends, "A Greater Penn State" seeks to fulfill the three key imperatives of a 21st century public university: keeping the doors to higher education open to hardworking students regardless of financial well-being; creating transformative experiences that go beyond the classroom; and impacting the world by fueling discovery, innovation and entrepreneurship.
To discuss how you might impact the Penn State Mont Alto campaign with your philanthropic support, contact Randall Ackerman, director of campus development, at [email protected] or call 717-749-6116. To learn more about "A Greater Penn State for 21st Century Excellence," visit greaterpennstate.psu.edu.