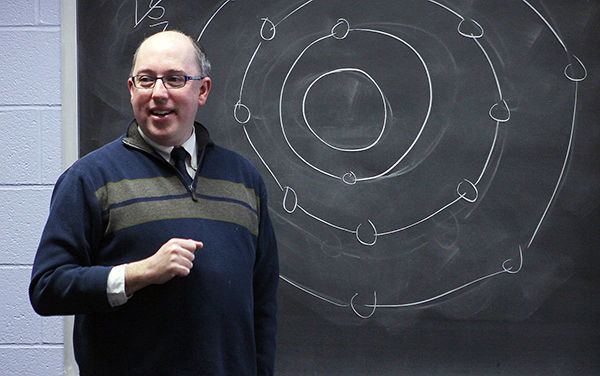 MONT ALTO, Pa. — During Penn State Mont Alto's spring 2019 Evening Talk and Star Party Series, faculty and staff will share their experiences and expertise in a diverse collection of topics, from immunotherapy to rabbit husbandry and music. The talks, set for Feb. 6, March 13 and April 3, will begin at 7:30 p.m. in the General Studies Auditorium and are free of charge and open to the public.
Feb. 6, "Immunotherapies: The Next Frontier in Cancer Treatment" — The 2018 Nobel Prize in medicine was awarded to James P. Allison and Tasuku Honjo "for their discovery of cancer therapy by inhibition of negative immune regulation," also known as immunotherapy. In this talk, Penn State Mont Alto biology faculty member and former tumor immunology researcher Edward Hipkiss will discuss what immunotherapy is, how cancer avoids detection from the immune system, and the successes (and failures) of trying to trick the immune system into attacking tumors.
March 13, "Rabbits and Their Amazing Coat Colors" — Anne Copenhaver, lecturer in chemistry, is also a longtime 4-H leader, breeder, and exhibitor of rabbits. She holds a number of publications in national journals on topics related to the husbandry of rabbits. She will speak on the genetics of the coat colors of rabbits. Coming along for the presentation will be rabbits from her barn and from the Adams County 4-H Rabbit Club. This will demonstrate how the five basic genes governing coat colors work together to give the many variations found in today's domestic rabbits. Come to see and pet these wonderful and fun animals that present a challenge to the youngest child up to the most seasoned scientist.
April 3, "The True Story of How and Why Handel Wrote 'Messiah'" — William (Bill) Rolar, lecturer in music, will present an exploration of the story of George Frideric Handel's personal situation, which caused him to write "Messiah" during financial "last chance" desperation in Ireland in 1742. A short historical fiction film will help tell the story. "We will experience a performance of 'Hallelujah' with an enormous chorus accompanied by the world's largest functional pipe organ with a nine-story pure golden facade; this occurred in a massive Philadelphia department store with a marble interior," said Rolar. The presentation also will include "Hallelujah," performed by 6,000 musicians with full orchestra and organ in a large London circular concert hall. There will be time for questions, comments and reactions. (Note: This presentation has been rescheduled from last November.)
Weather permitting, Kimberly Herrmann, associate professor in physics and astronomy, will lead a Star Party after each presentation in the field between Orchard Road and the General Studies Building parking lot from 8:45 to 10 p.m. Telescope viewing and night-sky tours with green laser pointers will be part of the star party activities. Multiple telescopes should be available, courtesy of the TriState Astronomers (tristateastronomers.org), a local amateur astronomy club. In the event of cold weather, patrons should wear layers of clothing and bring jackets, hats and gloves. Note that if the weather does not cooperate for viewing, due to precipitation or cloud cover, the star party may be canceled.
Those interested in astronomy also can attend Penn State Mont Alto Planetarium Shows from 8 to 9 p.m. on March 28 and April 18, or from 7 to 8 p.m. on March 29 and April 19. The shows on consecutive nights will be similar.
For more information, contact Debra Collins, director of public relations and marketing, at 717-749-6112 or email [email protected].