Students embark on real-world research experience in Pacific Northwest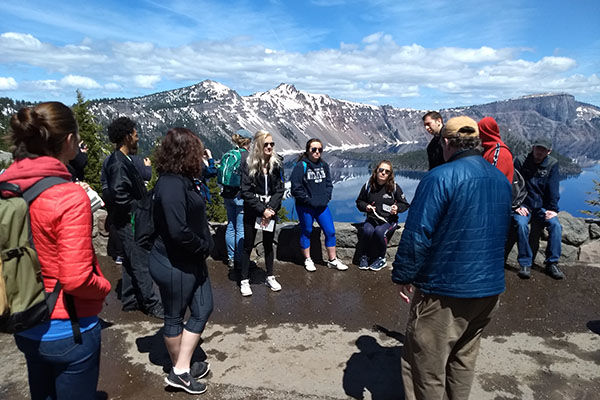 UNIVERSITY PARK, Pa. — Christine Tamburri stood in the shadow of Mount St. Helens and surveyed the scars that remain 37 years after the volcano's devastating eruption. 
The Penn State geosciences student hiked between steep hills of ash and rock that spewed forth and settled on the surrounding landscape. But something else stood out among the ruin.
"You could see little wildflowers peaking up from the rocks and starting to bloom," she said. "I thought, it's only been 37 years, but things have come back. Things are surviving."
The trip was one highlight of a three-semester research course sponsored by the College of Earth and Mineral Sciences Center for Advanced Undergraduate Study and Experience (CAUSE).
The little wildflowers inspired Tamburri to study how life returns following catastrophic events like volcanic eruptions. An invasive flower species dominated in areas most damaged by the eruption but was absent nearby in areas less impacted, she found.
The work recently earned her second place at the College of Earth and Mineral Sciences (EMS) Undergraduate Exhibition.
"I probably wouldn't have done any research this year, and I would have never participated in a poster competition if it wasn't for CAUSE," she said. "It helped me get over my fear of doing research. It showed me you can build something from nothing. We watched these ideas come out of nowhere and turn into something. And they worked."
Tamburri and 12 other Penn State students in CAUSE spent their spring semester learning the science of earthquakes, tsunamis, volcanoes and more.
They then trekked across Oregon and California during a two-week Maymester trip. Their experiences shaped research projects they conducted during the fall semester.
"It's a great opportunity for undergrads because it's a whole research project," said Morgan Frazier, a senior in geosciences. "You have a problem, you go see the problem, and then you come away with a way to communicate that problem to the world."
Frazier studied crustal thickening at the Mendocino Triple Junction, where three tectonic plates meet deep beneath the Earth's surface. It's also the location of the San Andreas fault.
She compared models of subsurface deformation with GPS observations of surface deformation to better understand how the plates are interacting, which has implications for earthquakes.
The project received first place at the poster competition. Frazier is continuing the work for her senior thesis by attempting to develop calculations for a crustal thickening rate.
"CAUSE made everything a lot easier," Frazier said. "I got my senior thesis adviser out of it. I got grad school recommendation letters out of it. I have connections at other schools across the country through these professors. It just helped everything."
Tanya Furman, Kevin Furlong and Maureen Feineman, professors in the Department of Geosciences, were co-instructors on the course. They provided mentoring and led the field trip to help students gain real-world experience tackling important scientific questions.
"All research opportunities are significant for students at early stages of their career," Furman said. "The EMS disciplines are really special among the sciences in that there are many foundational aspects of the science that are still being developed. Students at all stages can do research that generates new knowledge, and that's exciting. It helps them see where they can make a difference."
The instructors chose to focus on the Pacific Northwest because the area's tectonics result in other geological phenomena that impact lives through hazards like earthquakes, tsunamis and volcanoes.
Furman said the region is particularly interesting scientifically — the subduction of the Pacific Ocean underneath North American is important to understanding the planet's evolution.
"I thought it was breathtaking to see the sites," said Tony Saunders, junior in mining engineering in the John and Willie Leone Family Department of Energy and Mineral Engineering. "The experience and the sites that I saw there will definitely stick with me for life."
Saunders' research project focused on how factors like infrastructure and aging populations can represent risk hazards for coastal communities in Oregon. People there would have to evacuate quickly if an earthquake triggered a tsunami warning.
"CAUSE gave me new experiences and friends," Saunders said. "I feel like I have a team. I can go to them anytime and talk. Maureen is like a second adviser to me. And Kevin and Tanya motivate me to get the job done."
This year, CAUSE was structured specifically to reach students like Saunders and Tamburri, whose academic careers began at Commonwealth Campuses. The lack of a social network for these students can make advanced coursework even more daunting, Furman said.
"By the end of the trip, everyone was so close, and we still are," Tamburri said. "And I think that's one of the coolest parts of CAUSE."
Contact
Patricia Craig
Marketing and communications, Earth and Mineral Sciences