Penn State Mont Alto recognizes and honors winners during awards ceremony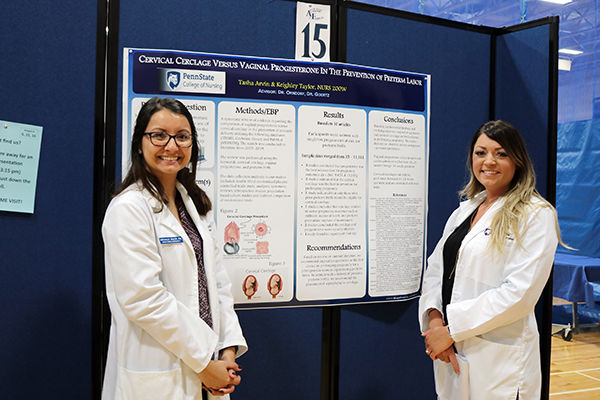 MONT ALTO, PA.― Seventy-two Penn State Mont Alto students displayed and presented their best academic and artistic work on April 12, during the 14th annual Penn State Mont Alto Academic Festival. Innovative research-based posters, informational exhibits, and oral presentations were presented in the Multipurpose Activities Center, while student artwork was on display in the library.
Following the festival, winners were announced and recognized during an awards ceremony in the General Studies Building Auditorium.
Exhibits
First: "Premature Birth and Prenatal Development," Samantha Kaye Perry (faculty mentor Robin Yaure)
This project presented research on prenatal development and premature birth, including how future parents need to be aware of certain aspects, such as ensuring that the mother has prenatal care and that she and her baby are healthy throughout the pregnancy. Perry provided pamphlets that could potentially be used in hospitals and other health care facilities to inform parents about premature birth and prenatal development.
Second: "The Neurological Map and Physical Therapy Interventions," Courtney Stump (faculty mentor Renee Borromeo)
Research was conducted on the basis of cortical and somatosensory homunculus and neurological mapping to the physical therapy interventions practiced today. A background was provided on Wilder Penfield's homunculus concept and how we have expanded the research for physical therapy. Visual representation of the brain's homunculus and map were displayed along with key information relating it to the field of physical therapy.
Third: "Acoustic Levitation," Jake Grim (faculty mentor Kim Herrmann)
Do you believe in magic? If not, how about science? The acoustic levitation displays both. By utilizing precision ultrasonic sound waves, visible particles levitated in front of viewers eyes. The invention "defies gravity."
Research Posters
First: "Vaginal Progesterone as Cervical Cerclage to Prevent Preterm Births," Tasha Arvin and Keighley Taylor (faculty mentors Lois Orndorf and Sherry Goertz)
In the United States nearly 1 in 8 babies is born prematurely (before 37 weeks gestation), costing the government more than $26 million annually in care provision. Premature babies have a higher risk for cognitive defects, cerebral palsy, respiratory distress, developmental delay, and other health problems. This poster examines the research comparing the efficacy of two interventions: vaginal progesterone and cervical cerclage to delay birth.
Second: "Analyzing Internet Information Accessible to Parents Regarding Infant Sleep," Andrea Peckman (faculty mentor Robin Yaure)
As technology and availability of information continue to increase on the internet, more information is becoming accessible online to parents who are searching for answers regarding topics like infant sleep. It is essential to ensure that parents are receiving accurate information when it comes to parenting techniques that will be the safest for infants. Through the careful selection of terms and analysis of website results from various major search engines, important observations were made to discover what information people are currently receiving and how that fits with current scientific knowledge.
Third: "Linking Job Insecurity the Number of Children and Work Family Conflict Via Employees Stress and Their Spouses Stress," Amanda Moore, Terrell Campbell, Karley Coleman, Koran Dunbar, Caleb Gladfelter, Sierra Hassinger, Dylan Miles, Naomi Smith, and Alexandra Yeakel (faculty mentor Seulki "Rachel" Jang)
The students examined how and when job insecurity affects work-family conflict. They proposed employees' stress and their spouses' stress as mediators and the number of children as a moderator. Using three-waves of data, the students performed a moderated mediation path analysis and found that job insecurity related to work-family conflict through employees' stress, but not through their spouses' stress. The number of children did not moderate the relationship between job insecurity and employees' stress.
Presentations
First: "Designing a Baby: Gene Editing," Kelley Mong, Chelsea Danner, Kaitlyn Boyer, Ben Cai, and Mario Acevedo (faculty mentor Stephanie Unger)
In the last two decades, genetic engineering technology has increased. The most recent technology being used is called Clustered Regularly Interspaced Short Palindromic Repeats (CRISPR). The purpose of CRISPR is to treat preventable diseases directly at the source, DNA. However, with any new treatment technology, there is a potential for unforeseeable consequences and benefits, posing legal and ethical perspectives to be considered.
Second: "The Pros and Cons of Gene Editing," Tasha Arvin, Katherine Grimm, Kaylee Read, Mckensey Hartsock, Keighley Taylor, and Darah Stoufer (faculty mentor Stephanie Unger)
Gene editing, the ability to make highly specific changes in the DNA sequence of a living organism, has recently gained special interest due to new discoveries in the human genome. Researchers use gene editing to explore the correlation between genes and traits. Genome editing is being applied to research cancer, mental illness, and rare diseases. The students explained the two types of genome editing, as well as the benefits, risks and ethical issues associated with gene editing.
Third: "Forest Management to Promote Growth of Hard Pines," Karl Sowders and Marc Stafford (faculty mentor Peter Linehan)
Sowders and Stafford used ArcGIS software to create a management zone for hard pine regeneration. Some maps included the management zone delineation, soils map and haul road map. They also created a buffer around the management zone to reduce the seeding of undesirable species. This project is long term and the results should show in one to two years that the hard pines will regenerate the harvested forest.
The University Libraries' Undergraduate Research Award: Excellence in Information Literacy
The University Libraries' Undergraduate Research Award: Excellence in Information Literacy recognizes scholarly work based on a foundation of careful background research and literature review.
"Immune System Effects of Humira Compared to Orencia in Patients with Rheumatoid Arthritis," Jordan Green and Mallory Sipes
(faculty mentor Sherry Goertz)
Rheumatoid Arthritis (RA) is a chronic, systematic inflammatory disease that impairs the body's immune system, causing pain, problems with mobility, and damage to multiple body systems, such as the skin, eyes, lungs, heart and blood vessels. Although currently there is no cure, remission from RA can be promoted with a variety of medications ― the newest from the class of biologic response modifiers. This poster examines the effects of treating RA with the new biologics, specifically the use of adalimumab (Humira) versus abatacept (Orencia).
"Interventions and Outcomes During Planned Hospital Births as Compared to Planned Home Births," Darah Stouffer and Mckensey Hartsock (faculty mentors Lois Orndorf and Sherry Goertz)
This study examines the types and number of interventions performed with mothers and babies during the birthing process. Comparisons between low-risk planned-hospital births and low-risk planned-home births were completed. Results were provided based on associated outcomes with birth interventions in both settings.
Art Show
First: Old Main, Bryce J Stevenson
Second: Matthew Pierce, "Kauai Coastline" (painting)
Third: Courtney Ledgard, "Branches" (charcoal)
Honorable Mention
Shaina Walker, "Mary's Moo Cow" (water color)
Mitchell Krcelic, "Desperation of the Sea"
Brandy Cline, "Abstract with Blended Tones"
Sonja Loewe, "Stay"
To see photos of the festival, visit https://www.flickr.com/photos/psuma/albums/72157706514782591.