Penn State Mont Alto to showcase student research projects and artwork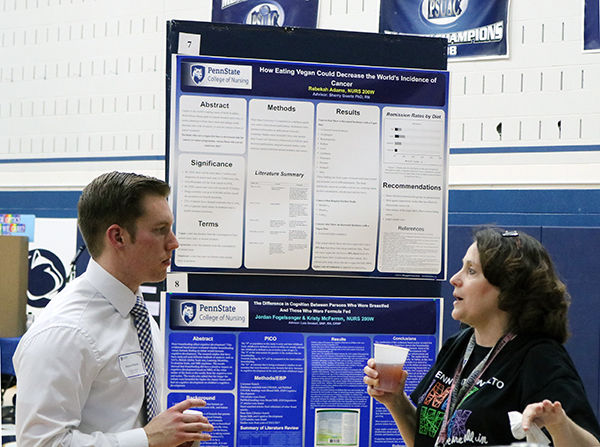 MONT ALTO, Pa. — Seventy-two Penn State Mont Alto students will display and present their best academic and artistic work on April 12, during the 14th annual Penn State Mont Alto Academic Festival, from noon to 3 p.m. in the Multipurpose Activities Center (MA­­C). An awards ceremony will follow in the General Studies Building auditorium at 3:45 p.m. The public is invited to attend free or charge.
The festival will begin with research posters and informational exhibits from noon to 3 p.m. in the Multipurpose Activities Center (MAC). Oral presentations and performances will be presented beginning at 12:20 to 3:15 p.m. also in the MAC, Room 122. Student artwork will be on display on the second floor of the Library and a reception will be held from 2:30 to 3:30 p.m. An awards presentation will close the festival beginning at 3:45 p.m. in the General Studies Auditorium.
"We are proud to showcase the hard work of our students. This year's festival will include 43 student projects ― research-based posters, information exhibits, and oral presentations ― and more than 40 individual works of art," said Patricia Gochenauer, Penn State Mont Alto career counselor.
The students' work covers a wide array of topics and ranges across all majors and subjects. The art projects include drawings, paintings, and photographs.
Some titles of the research posters and exhibits include: "Substance Abuse Among Veterans," "The Effects of the Panama Canal Expansion," "Evaluating a Genetically Diverse American Chestnut Orchard for Education and Research," "Mirroring Therapy for Phantom Pain," "Living with Early-Onset Alzheimer's," "Fast Food Financials," "Analyzing Trajectory of Hydrogen Powered Rocket," and many more.
The student awards for this year's Academic Festival are sponsored by The Owls Club (Waynesboro); Penn State Mont Alto Alumni Society, Penn State Mont Alto Academic Support Center, and Penn State Mont Alto Student Activity Fee.
For more information, contact Debra Collins, director of public relations and marketing at [email protected].