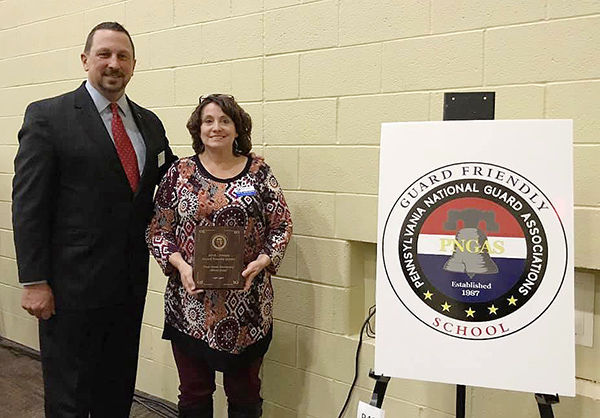 MONT ALTO, Pa. — Penn State Mont Alto was recognized as a "Guard Friendly School" by the Pennsylvania National Guard Associations (PNGAS) during its annual conference on Nov. 8 in Lancaster, Pennsylvania. The University is one of 30 inaugural winners selected from more than 480 eligible schools that receive Pennsylvania Higher Education Assistance Program Funds and the only college recognized in Franklin County.
"Penn State Mont Alto is committed to facilitating veteran students' transition from military service to higher education, fostering a community of veterans on our campus, and supporting them through graduation and into rewarding careers and graduate programs," said Lisa D. DeGregorio, Penn State Mont Alto veterans certifying official. She accepted the award on behalf of Penn State Mont Alto.
The PNGAS is the only organization dedicated to supporting the Pennsylvania National Guard and their families, which includes 19,438 active members and more than 67,000 veterans. The PNG must recruit more than 2,300 new members each year to replace guard members who have either completed their commitments or retired. The PNGAS mission supports efforts to recruit, train and retain PNG members.
To earn Guard Friendly School status, Penn State Mont Alto had to meet PNGAS criteria that included: class attendance policies to excuse National Guard members when they attend training or are deployed; applying class credit for military training experience; training for faculty and staff to better serve veteran and military students; and accepting funds from the EAP, which provides PNG members tuition benefits from the state that are equivalent to the yearly tuition rate set by Pennsylvania's State System of Higher Education.
Other supporting evidence for the recognition include Penn State Mont Alto having an active Student Veterans of America (SVA) chapter, a Student Veterans' Mentoring Program, and a designated Veterans Center, where student veterans can gather, share experiences, and study.
Mont Alto is also a signatory of the Education Pillar of "Got Your 6," the "8 Keys to Veterans' Success," and participates in the "Principles of Excellence" in recruiting and retaining veteran students. In addition, the campus dedicated the Penn State Mont Alto Veterans' Memorial in 2012, which was largely funded by money raised by the SVA. Moreover, Penn State Mont Alto hosts an annual Veterans Day event.
Last year, Penn State Mont Alto placed third in the top 10 Gold Military Friendly Schools in the category of "small public schools with less than 10,000 students" designated by Victory Media.
To learn more about military veteran resources at Penn State Mont Alto, visit montalto.psu.edu/veterans or contact DeGregorio at [email protected] or 717-749-6094.