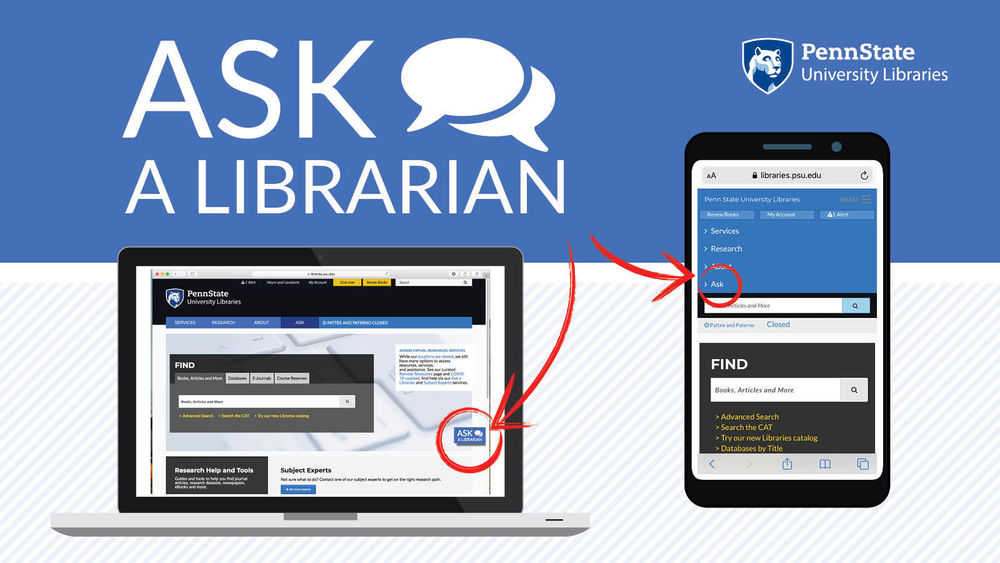 New to Penn State? Need help finding library materials? Have research questions? Want to learn more about Penn State University Libraries resources and services? Consider the University Libraries' "Ask a Librarian" online service, which instantly connects users to a Penn State librarian via live chat.
"For many students and researchers, their first and perhaps only contact with the University Libraries will be online," said Tom Reinsfelder, head librarian at Penn State Mont Alto. "The 'Ask a Librarian' service is here to support these individuals. It's a great example of how Penn State operates as one University, geographically dispersed."
Every day, "Ask A Librarian" serves numerous visitors and offers assistance with locating books and documents that are not available online, uncovering and accessing online information that may require an expensive subscription, untangling complex questions, and connecting researchers with the Penn State information specialist who can best address a specific inquiry.
"Helping ASK users is one of my favorite aspects of library work," said Ellysa Stern Cahoy, education librarian. "The questions are challenging and varied and give a sense of the current assignments and research questions confronting our students, faculty and staff."
Users can start a chat by clicking on the "Ask a Librarian" blue button that appears on the right side of every Libraries web page. They also have the option of sending an email or text message. For more in-depth needs, users can schedule a research appointment and meet with a librarian by phone or Zoom.
"Ask a Librarian" is not just for Penn State students and researchers. The service receives many questions from people not affiliated with Penn State, including researchers and students at other colleges, high school students, and businesses.Subject librarians and experts from many departments and campuses work to help users from across Pennsylvania and beyond, whether that means finding items in a library building, navigating specialized online research databases or taking advantage of other library offerings.
"Ask a Librarian" is popular at all hours of the day. During the spring 2020 semester, the chat service was used 6,192 times and 1,943 questions were answered via email. On average, chat questions had a wait time of 36 seconds before an initial response. Ninety-two percent of email questions received a response within 24 hours, and more than 50% received a response within an hour.
More than 96% of users rate the service as either "good" or "excellent," with an overall average rating of 3.8 out of 4.
"Ask a Librarian" is available during fall and spring semesters as follows:
Monday through Thursday — 8 a.m. to 10 p.m.
Friday — 8 a.m. to 5 p.m.
Saturday — 10 a.m. to 4 p.m.
Sunday — noon to 10 p.m.
For more information and answers to frequently asked questions, visit ask.libraries.psu.edu or watch the Libraries' promotional video.