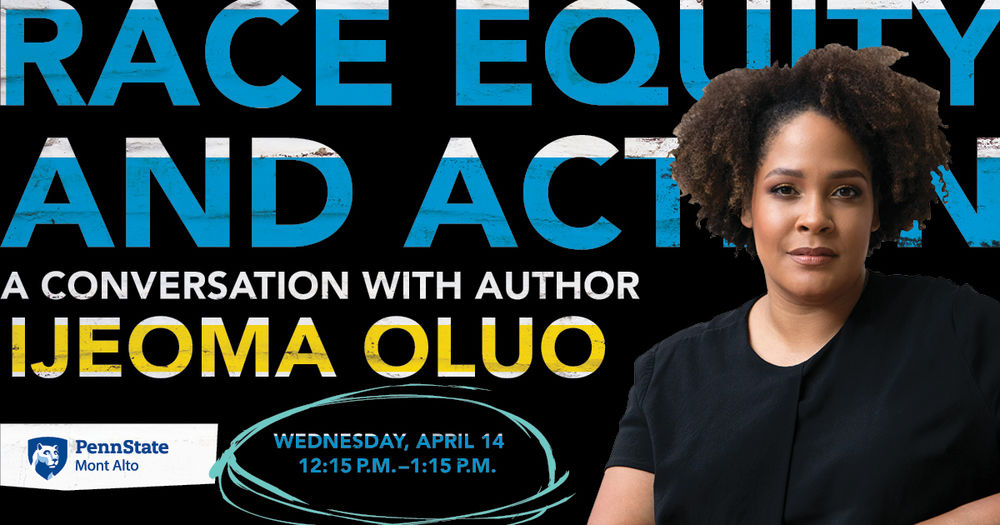 MONT ALTO, Pa. — Penn State Mont Alto's Race, Equity, and Action series spring 2021 programming will conclude on Wednesday, April 14, with a virtual campus discussion with New York Times bestselling author Ijeoma Oluo. The author of "So You Want to Talk About Race" will engage in a thoughtful and challenging discussion of race and racism with our campus community.
Mont Alto's "Race, Equity, and Action" series was developed by faculty member Kira Hamman, assistant teaching professor in mathematics, in 2020 as way to foster conversations about systemic racism and awareness on campus in the wake of the killings of Ahmaud Arbery, Breonna Taylor, George Floyd and many others. The spring program comprised a series of conversations, faculty-led seminars and professional development sessions.
In the spring 2021 semester, the program included seminar-style reading and discussion groups based on relevant books focusing on racial issues, including Jesmyn Ward's "The Fire This Time" and "Black Woman in Green" by Gloria Brown. Thanks to a grant from Barnes & Noble Education, a sponsor of the program, campus community members had access to free copies of each book.
"Many long-overdue conversations about racism and inequity have begun over the last year, both within the University and all around the country. At Mont Alto, we realized that we needed to create space and opportunity for those conversations on our own small campus as well," said Hamman. "The Race, Equity, and Action program was launched last summer to have those conversations and to begin to do the work of dismantling racism in our own community."
The conversation with Oluo, which will be held virtually via Zoom, will begin at 12:15 p.m. on April 14, and local community members are invited to attend. Members of the Penn State community may pre-register with a University email address to participate via Zoom. The public is invited to attend via webinar and should register to attend at this separate link.
Community members interested in reading "So You Want to Talk About Race" prior to the talk can pick up a free copy of the book from the University Library on the Mont Alto campus. The library is open to the public from 8 a.m. to 5 p.m., Monday through Friday.
In addition to the support from Barnes & Noble, Oluo's visit was made possible by contributions from the campus Student Activities Fee, the Mont Alto Honors program, the Mont Alto Library, and the campus' Occupational Therapy Assistant program.
The "Race, Equity, and Action" series will continue its programming in 2021 with additional workshops, speakers and events.
Ijeoma Oluo (pronounced "ee-joh-mah oh-loo-oh") is a writer, speaker and self-described "internet yeller." She is the author of the No. 1 New York Times bestseller, "So You Want to Talk About Race" and most recently, "Mediocre: The Dangerous Legacy of White Male America." Her work on race has been featured in The Guardian, The New York Times and The Washington Post, among many other publications. She was named to the 2021 TIME 100 Next list and has twice been named to the Root 100. She received the 2018 Feminist Humanist Award and the 2020 Harvard Humanist of the Year Award from the American Humanist Association. She lives in Seattle, Washington.
For more information about "Race, Equity, and Action," contact Hamman at [email protected] or 717-749-6029.