Penn State Division of Development and Alumni Relations recognizes #GivingTuesday participants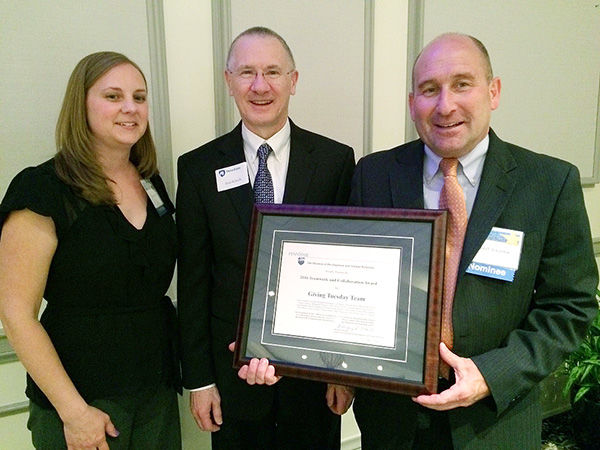 MONT ALTO, Pa. — Penn State Mont Alto's Randall Ackerman, director of campus development, and Brandi Biesecker, development assistant, were recognized by Penn State's Division of Development and Alumni Relations with the Teamwork and Collaboration Award during the division's quarterly meeting May 23 in the grand ballroom of The Nittany Lion Inn.
The award was presented to a group of division employees that participated in and contributed to the success of Penn State's 2015 #GivingTuesday campaign — a global day dedicated to giving back. Penn State's effort included Penn State Mont Alto, Intercollegiate Athletics and University Libraries, Annual Giving, Donor and Member Services, Donor Relations, and Development Communications.

During the inaugural 24-hour, online crowdfunding effort, Penn State Mont Alto raised $12,571, exceeding its goal of $12,000, to provide resources and facilities to students in the campus' 12 varsity sports programs and the Cheerleading Club. The campaign received matching gifts from two donor couples, Craig and Page Nitterhouse and Matt and Tana Oyer. Overall, Penn State received 3,908 gifts totaling $487,688.

Penn State Mont Alto will again offer a #GivingTuesday online challenge Nov. 29 in support of the campus' athletics programs.