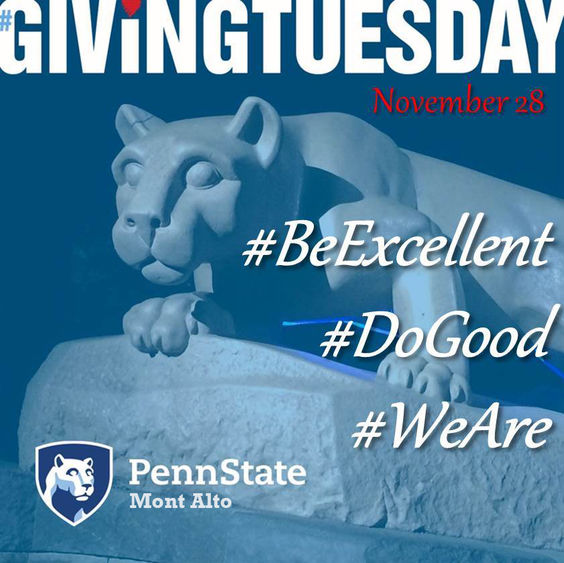 MONT ALTO, Pa. ― Raise your voice. Give back on #GivingTuesday. Anyone making a gift to the Penn State Mont Alto Athletics Fund from 6:55 p.m. on Nov. 27 through midnight on Nov. 28 will be generously matched up to $5,000 by Joshua Dunklebarger, class of 2002, and his wife, Erica, class of 2005.
Mont Alto Athletics is one of Penn State's matching gift challenges available during a 24-hour giving event, #GivingTuesday. To learn more, go to giveto.psu.edu/givingtuesday.
On #GivingTuesday, people around the world make gifts to show their belief in important issues, exciting ideas, and people and organizations dedicated to pursuing them. Penn State associates — alumni, parents, friends and fans — are being asked to raise their voices for Penn State students by making gifts of any size to any area of the University. Donations to the Mont Alto Athletics Fund will be used exclusively for athletics and will directly benefit the men and women who participate in Mont Alto's 12 intercollegiate programs.
"We both came from proud Penn State families and met while we were students, playing for the Penn State Blue Band," said Josh Dunklebarger. "We have always admired and loved Penn State athletics and, as supporters of the Mont Alto campus, we know how athletics can create a positive campus spirit and atmosphere."
As a member of the United States Collegiate Athletic Association, Penn State Mont Alto does not offer athletic scholarships. Student-athletes who participate in Mont Alto's intercollegiate programming do so because they have passion and heart. Therefore, private financial support is especially important as it helps to improve and enhance the student-athlete experience by providing the necessary funds for facility upgrades and equipment not met by the University. Consequently, athletics generates a positive spirit for the entire campus community.
No matter how large or small the gifts or what is supported, the goal is to hear from as many Penn Staters on #GivingTuesday as possible. Celebrate the power of giving back and prove what the Penn State community can do when we all act together.
For more information about #GivingTuesday, contact Randall Ackerman at [email protected] or call 717-749-6112.