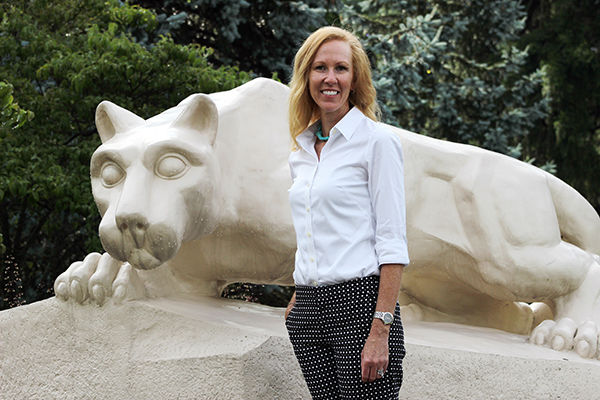 MONT ALTO, Pa. — Staci Brennan will join Penn State Mont Alto as its new athletic director July 1. She comes to Mont Alto from Hood College in Frederick, Maryland, where she served as associate director of athletics and compliance coordinator.

"I have no doubt Staci will be a strong asset to athletics at Mont Alto and to the campus community as a whole," said Penn State Mont Alto Chancellor Francis K. Achampong. "She brings experience not only in athletics but also in collaborating with other campus constituents."

Brennan will direct Penn State Mont Alto's 12-varsity-sport program that supports about 170 student-athletes annually. In addition, she will oversee club and intramural programs. Penn State Mont Alto competes in the United States Collegiate Athletic Association (USCAA) and the Pennsylvania State University Athletic Conference (PSUAC). Men's sports include baseball, basketball, cross-country, golf, soccer and wrestling, while women's sports include basketball, cross-country, golf, soccer, softball and volleyball.

"Penn State Mont Alto has a certain charm and intimacy to it. The campus has such a rich history and offers a unique educational experience which is unprecedented," said Brennan. "It is truly an honor and privilege to join the Penn State Mont Alto community. I would like to thank Dr. Achampong and the search committee for affording me this wonderful opportunity."

At Hood College, Brennan had direct administrative oversight of women's soccer, field hockey, lacrosse and softball, as well as men's and women's tennis, and assisted in budgeting, facilities management and management and supervision of 10 full-time and 22 part-time staff members, along with nine graduate assistants. She also oversaw National Collegiate Athletic Association (NCAA) compliance for 22 athletic programs and game site management for home athletic events.

Brennan was also an engaged campus citizen at Hood, having served on the college's Middle States Accreditation Steering Committee, the Hood College Title IX Committee, the Student Life Team Assessment Committee, and the Hood College Healthy U Committee.

Before serving as Hood's associate athletic director, Brennan was assistant athletic director and compliance coordinator and also served as Hood's head women's field hockey and lacrosse coach.

Brennan has also taught communication arts at Frederick Community College and worked as an assignment editor and reporter at WBFF-TV in Baltimore, Maryland, and as a news anchor for the 24-Hour News Update at WGAL-TV in Lancaster, Maryland.

Brennan holds a master's degree in mass communications from Towson University and a bachelor's degree from Catawba College.