Preston Harris, 13, joins squad as part of Team IMPACT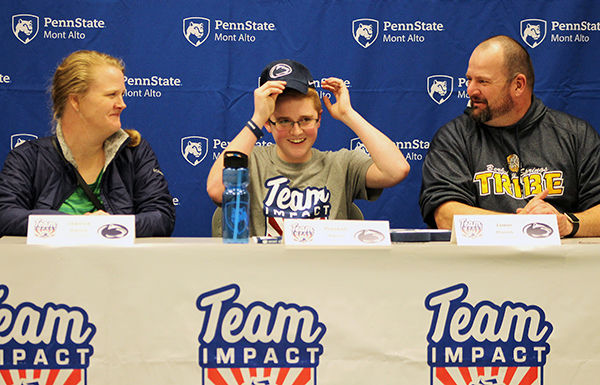 MONT ALTO, Pa. ― Preston Harris may be the smallest player listed on Penn State Mont Alto's men's basketball roster, but he certainly brings big contributions to the team.
"The energy, life and toughness he exhibits are the types of things we try to teach our players, and this is what he brings to the program," said head basketball coach Jack Schenzel.
As part of Team IMPACT, Harris, 13, who lives with a condition known as Duchenne muscular dystrophy, officially joined the team during a special signing event on Jan. 11 at the Mont Alto campus. He will attend practices, games, team dinners and events.
"We are extremely excited that Preston has made this choice," said Schenzel as he introduced Preston during the event.
Schenzel sees Team IMPACT ― a national nonprofit that connects children facing serious and chronic illnesses with local college athletic teams ― as an opportunity for the team "to be more of a factor in the community."
"I feel like Preston is part of the team — a member of our family — and the team really welcomed the opportunity and has fully embraced having him on board," said Schenzel.
Joined by his family, friends, teammates, coaches and administrators, Harris signed a letter of intent and received a Penn State Mont Alto ball cap. He also was presented with a Mont Alto jersey with the No. 32 ― the number of the team's all-time winningest player, Siele Johnson.
"We feel like that's a perfect number for Preston to pick up and carry forward for our program," said Schenzel.
An avid sports fan, Harris also is a member of the eighth grade boy's basketball team at Warm Springs Middle School, where four members of the Mont Alto basketball team recently visited to watch him play.
"It was the right thing to do — to support our teammate," said sophomore Jihad Warner. "And during the game, Preston scored two points and got two rebounds."
"It was a good time," said sophomore Marcus Roper, who also attended the game. "Preston scored and we got up and cheered for him."
Harris, the son of Jamie and Jeannie Harris, lives in nearby Berkeley Springs, West Virginia, with his sisters, Darby and Kaelyn, and brother, Isaac.
The memory of scoring during a game as his Mont Alto teammates cheered him on puts a smile on Harris' face and relates to what he loves most about basketball: "coming to the games, playing and watching the players."
Established in 2011, Team IMPACT has matched more than 1,300 children with more than 500 colleges and universities in 47 states, reaching more than 35,000 participating student-athletes. The child joins the athletic team and the student-athletes join the child's support team.
See more images of the signing event on flickr.