Schools select best lumberjacks to also compete in Stihl Timbersports Collegiate Series Mid-Atlantic Qualifier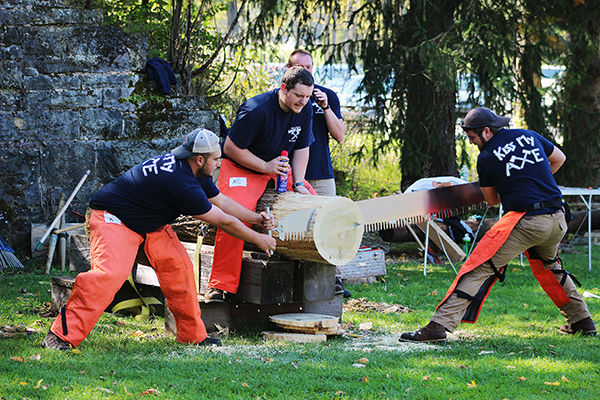 MONT ALTO, Pa. ― On April 8, the best collegiate lumberjacks and lumberjills in the region will converge on Penn State Mont Alto to compete in the 16th annual Mid-Atlantic Woodsmen's Meet and the Stihl Timbersports Collegiate Series Mid-Atlantic Qualifier ― a preliminary event to the U.S. Collegiate Championships on July 30. The event is open to the public and free of charge; spectators are encouraged to bring lawn chairs.
Activities are scheduled throughout the day (see below) and feature such classic lumberjack skills as chopping, felling, chain-sawing, axe-throwing, pole-climbing, archery, log-rolling, water boil, and dendrology (tree identification).
The participating colleges and universities will select their best collegiate lumberjack to go head-to-head in four events in the Stihl Timbersports Collegiate Series Mid-Atlantic Qualifier.
Stihl created the Collegiate Series to help develop future U.S. professional competitors in 2003. It travels to college campuses across the country to seek out the best amateur athletes and has grown from five participating schools to more than 60.
"The Mid-Atlantic Meet highlights student competition in historic logging skills. The history of the Mont Alto campus makes it a great location to host the events, because students in 1903 used some of the same tools we compete with today," said Craig T. Houghton, forest technology instructor and program coordinator.
Participating collegiate lumberjacks and lumberjills will come from Allegany College of Maryland, Cumberland, Maryland; Haywood Community College, Clyde, North Carolina; Montgomery Community College, Troy, North Carolina; Penn State Mont Alto, Mont Alto, Pennsylvania; Pennsylvania College of Technology, Williamsport, Pennsylvania; and Dabney S. Lancaster Community College, Clifton Forge, Virginia.
More information on the Collegiate Series can be found at stihlusa.com/stihl-timbersports/schedules/#live-events.
Event Schedule
8 a.m. to 9:30 a.m. ― Dendrology: Competitors identify trees, shrubs, and vines
8 a.m. to 9:30 a.m. ― Archery: Competitors shoot five arrows at 20 yards and 30 yards
9:30 a.m. ― Welcome and opening ceremony
9:40 a.m. to Noon ― Team pulp toss for accuracy: 6-person teams throw 4-foot logs for time; Single buck: One person cross cut saws through a 16-inch pine log; Pulp toss for distance: Competitors throw a 4-foot log as far as possible; Dot split: Open event to anyone! With an axe, swing above your head and then split a ¼-inch dot on a stump. Single-elimination with the finals at 2:15 p.m.
9:40 a.m. ― Team log roll: 4-person teams roll the log on a course using peaveys for time
10:30 a.m. ― Pole fell: Two competitors chop a standing pole and try to hit a stake in the ground
11:00 a.m. ― Bolt split: Competitors split 2 pieces of firewood into quarters for time
11:30 a.m. ― Water boil: Two competitors use dried lumber, three matches, and an axe to build a fire and boil soapy water for time
11:45 a.m. ― Horizontal speed chop (female): Competitors chop through a 10-inch block of pine for time
Noon ― Stihl Timbersports Collegiate Series Mid-Atlantic Qualifier: Each collegiate competitor is entered in four events (chopping – standing block and underhand), stock chain saw, and single buck. The winner qualifies for the U.S. Professional and Collegiate Championships, to be held July 28-30 in Milwaukee, Wisconsin.
1:30 p.m. ― Axe throw: Competitors throw a double-bitted axe at a wooden target 20 feet away
1:30 p.m. ― Pole climb: Competitors wear climbing spurs and climb a 34-foot pole for time
2:15 p.m. ― Dot split finals: Last four competitors face off in the ¼-inch dot split to crown the champion
2:30 p.m. ― Cross cut saw: Two competitors (men, women, and Jack and Jill) cross-cut 13-inch pine for time
3:15 p.m. ― Horizontal speed chop: Male competitors chop through a 12-inch block of pine for time
3:45 p.m. ― Chain saw: Competitors use a MS441 Stihl chainsaw to make three cuts through a 13-inch pine log
4:30 p.m. ― Woodsmen's grand finale relay: Six-person team in a relay of chain-sawing, chopping, cross-cut sawing, bolt-splitting, ending with chain-sawing for time
For more information, contact Debra Collins at [email protected] or 717-749-6112.