A Mont Alto tradition, the 'big climb' culminates arboriculture class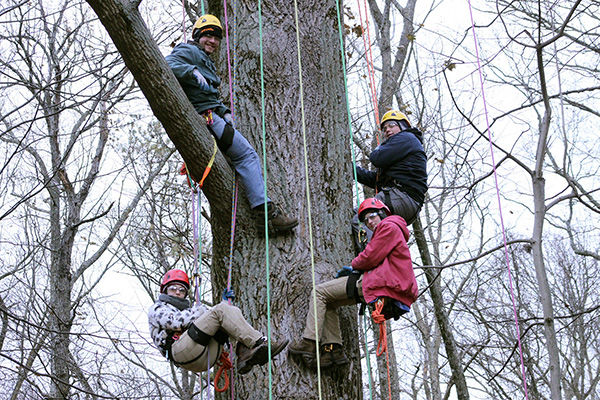 MONT ALTO, Pa. — On Nov. 28, Penn State Mont Alto forestry students climbed a 145-foot yellow poplar on the Penn State Mont Alto campus in Assistant Teaching Professor Craig Houghton's arboriculture class.
"The big tree climb culminates 15 weeks of students learning to safely and efficiently climb trees so they can properly care for them," said Houghton.
The climb was led by 2015 Penn State alumnus Evan Brumfield, who attended the Mont Alto campus and now works for Cumberland Valley Tree Service. Brumfield helped students by setting ropes in the tree and making sure they climbed safely.
Houghton has coordinated the climbing event since he started teaching at Penn State in 1993.
"It is a fun lab and climbing a big tree is exciting," he said. "This tree doesn't look as tall as it is but once students get up there in the wind, it gives them a feeling they've never had before."
Houghton, who takes this opportunity for an annual class photograph, said he estimates the age of the tree to be over 100 years old.
"At 53 inches in diameter and 145 feet tall, it is a big one," he said. "In fact, it's one of the tallest in the state, according to the Big Trees of Pennsylvania Register."
The Mont Alto campus is well known for educating foresters. Founded in 1903 as the Pennsylvania State Forest Academy, Penn State Mont Alto is the oldest campus outside of University Park. The institution merged with the Penn State School of Forestry in 1929 and became a full-fledged Commonwealth Campus in 1963. Today, Penn State Mont Alto continues to educate America's foresters, as well as students in many other academic programs.
Students in the Forest Technology program can take advantage of the Penn State Mont Alto Arboretum. Also established in 1903, it is a living, historic collection and outdoor classroom that contains more than 1,000 trees representing 29 families, 70 genera, and 174 species.