Penn State Mont Alto Woodsmen triumph over best collegiate lumberjacks in the region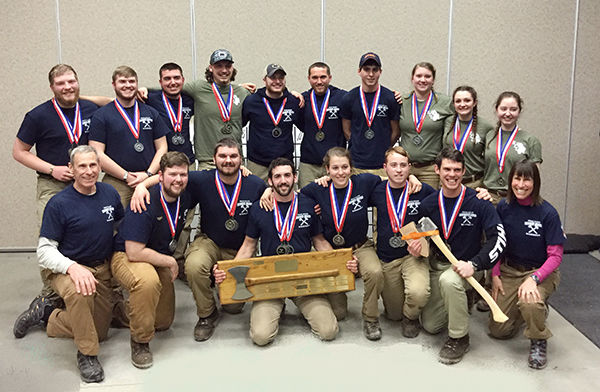 MONT ALTO, Pa.― On April 7, the Penn State Mont Alto Woodsmen Team took first from among the best collegiate lumberjacks in the region at the Mid-Atlantic Intercollegiate Spring Woodsmen's Meet in Troy, North Carolina. Montgomery Community College hosted the day of timbersports that also featured the STIHL Mid-Atlantic Collegiate Qualifier. The other participating schools included Haywood and Montgomery Community Colleges from North Carolina, Dabney S. Lancaster Community College from Virginia, and Allegany College of Maryland.
"Our 16-person team of forest technology, nursing, and wildlife and fisheries science majors competed all day in the rain and in the Carolina mud to bring home the traveling trophy," said Craig Houghton, forest technology instructor and program coordinator.
Penn State Mont Alto's Levi Negley placed third in a four-event competition of the Pro and Collegiate Mid-Atlantic Qualifiers of the Stihl Timbersports Series ― the nation's premier lumberjack competition. Seven schools were each represented by a student competitor and for third place, Negley won a new racing ax and safety equipment from Stihl.
"All 16 student competitors were awarded medals for top-three performances in 13 different events," said Houghton.
Throughout the day, participants competed in both individual and team timbersports events, including dendrology, log roll, orienteering, axe throw, single buck, pulp toss accuracy, pulp toss distance, pole fell, bolt split, pole climb, cross cut, chainsaw, and speed chop.
The individual and team event winners are:
Stihl Collegiate Timbersports Series – third, Levi Negley
Dendrology – first, Brady Williams; third, Marc Stafford
Log Roll – second, Silas Dishong, Garrett Hamilton, Kayla Knauss, and Derrick Wenrick
Orienteering – second, Cullen Cameron
Axe Throw (Men) – secon, Owen Neff
Single Buck – third, Mike Gibbens
Pulp Toss Accuracy – first, Levi Negley, Mike Gibbens, Owen Neff, Shaina Walker, Derrick Wenrick, and Mark Stafford; second, Garrett Hamilton, Kayla Knauss, Trenton Bechtel, Cullen Cameron, Silas Dishong, and Brady Williams
Pulp Toss Distance – first, Mike Gibbens
Pole Fell – first, Levi Negley and Mike Gibbens
Bolt Split (Men) – second, Mark Stafford; fourth Derrick Wenrick
Bolt Split (Women) – third, Alexa Rudisill; honorable mention, Mary Shriver
Pole Climb (Men) – third, Levi Canon, fourth, Trenton Bechtel
Pole Climb (Women) – second, Shaina Walker
Cross Cut (Men) – first, Trenton Bechtel and Owen Neff; second, Chris Neufer and Garrett Hamilton
Cross Cut (Women) – second, Kayla Knauss and Alexa Rudisill
Cross Cut (Jack and Jill) – second, Levi Negley and Alexa Rudisill
Chainsaw (Women) – second, Kayla Knauss; third, Alexa Rudisill
Chainsaw (Men) – fourth, Levi Canon
Speed Chop (Men) – first, Levi Negley; fourth, Levi Canon
Speed Chop (Women) – second, Shaina Walker