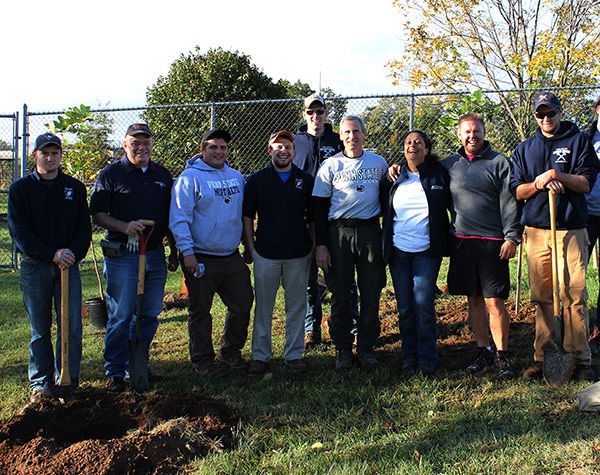 MONTA ALTO, Pa. — Penn State Mont Alto forest technology faculty and students joined other volunteers, including Pennsylvania Sen. Richard Alloway II, in planting 191 trees during a Trees for Tomorrow event Oct. 10 at five area locations. Alloway and the Pennsylvania Office of the Alliance for Chesapeake Bay, led by Donna Morelli, the alliance's Pennsylvania director, coordinated the event.
The event began at the Chambersburg Area Middle School in Chambersburg, where Alloway and Morelli welcomed the volunteers and then invited Craig Houghton, Penn State Mont Alto Instructor in Forestry, to give a tree planting demonstration to the volunteers before the group divided into teams and travelled to the tree planting locations.
Penn State Mont Alto's crew planted trees at the Renfrew Museum and Park in Waynesboro. Other planting locations included the Winebrenner-Scotland campus in Scotland, Millcreek Acres Park, and a Habitat for Humanity project in Chambersburg.