Portraits of immigrants and refugees featured throughout February at Penn State Mont Alto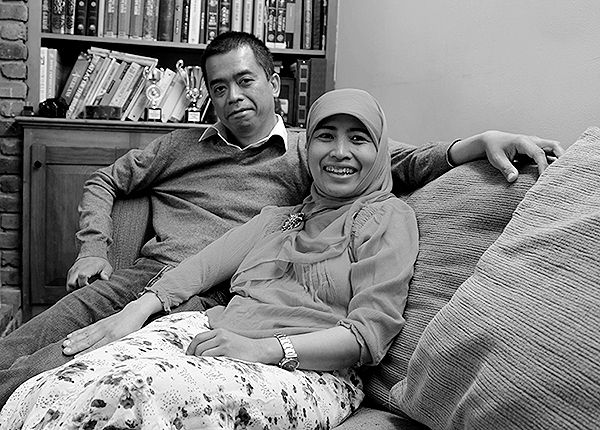 MONT ALTO, Pa. ― "Building Bridges," a touring photo-text exhibit by Family Diversity Projects, will be on display at the Penn State Mont Alto Library, second floor, during the month of February. An opening reception will be held from noon to 3 p.m. on Feb. 1. The exhibit highlights the work of photographers Mark Chester and Gigi Kaeser, with interviews by Peggy Gillespie. The public is invited to attend free of charge.
The "Building Bridges" exhibit includes photographs and interviews with people who have come to the United States as immigrants or refugees from all over the world. The show is meant to challenge damaging myths and stereotypes about immigrants and refugees and to help prevent bullying while also encouraging respect and appreciation for this diverse group of people in the United States.
"At a time when immigrants and refugees continue to come under attack by our president and his administration, this exhibit is a way to fight negative characterizations and encourage respect, compassion and inclusion," said Kira Hamman, instructor in mathematics and director of the Penn State Mont Alto Honors Program. "As the exhibit illustrates, we are a nation of immigrants and refugees."
The exhibit can be viewed during the Library's open hours, including: 8 a.m.-10 p.m. Monday through Thursday; 8 a.m.-6 p.m. Friday; 10 a.m.-4 p.m. Saturday; and noon to 10 p.m. Sunday.
Family Diversity Projects' award-winning, traveling photo-text exhibits help eliminate prejudice, stereotyping, bullying and harassment of people who are discriminated against due to sexual orientation, gender, gender identity, race, national origin, religion, and disabilities of all kinds.
Funding for this project was provided by the Penn State Mont Alto Alumni Board and other campus organizations, including the Student Activities Fees, Honors Program, and Teaching Support Fund.
More information about the exhibit is available at https://familydiv.org/exhibits/building-bridges/. For information about the reception, contact Debra Collins, director of public relations and marketing, at [email protected] or 717-749-6112.