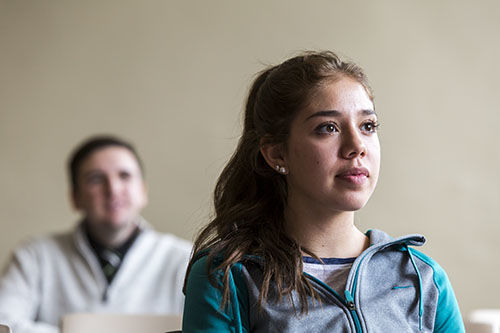 MONT ALTO, Pa. — This fall, Penn State Mont Alto will offer a bachelor's degree in psychology — a degree that has strong job prospects, according to a report by the United States Bureau of Labor Statistics (BLS).
Overall employment for psychologists will grow by 19 percent between 2014 and 2024, much faster than the 7 percent average growth predicted for all occupations, as reported by the BLS. In contrast, employment of psychiatrists is predicted to grow by 15 percent and social workers by 12 percent.
Jobs for clinical, counseling and school psychologists are expected to grow even faster than employment for psychologists overall, with an expected 20 percent increase, spurred by the need for services for older people with aging concerns, veterans with war-related trauma, and people with autism.
"A psychology degree is extremely marketable because students develop valuable and transferable skills, such as writing, communicating, investigating and understanding behavior, that will serve them well in many different employment settings," said Michael Doncheski, Penn State Mont Alto chief academic officer.
Mont Alto's program will offer three psychology degree options:
bachelor of arts
bachelor of science, business option
bachelor of science, science option
The bachelor of arts degree incorporates a broad exposure to the many facets of the field of psychology in addition to the bachelor of arts requirements. The bachelor of science degree provides the same exposure to the field of psychology; however, students can choose an option to focus on either science or business to prepare for more specific career directions.
Students enrolled in Mont Alto's Psychology Program will develop a knowledge base consisting of concepts, theory, research findings and trends within psychology. They will learn about the importance of the scientific method and application of psychology to help solve problems related to behavior, mental processes, and personal as well as social issues. Students should also develop information and computer competence, communication skills, and develop realistic ideas about how to implement their psychology education in occupational pursuits in a variety of settings. In addition, the program will focus on critical thinking skills, research methodology and statistics, and enhanced writing skills.
With the addition of psychology, Penn State Mont Alto now offers eight bachelor's degrees and seven associate degrees. With Penn State's 2+2 Program, students can attend Penn State Mont Alto for the first two years of study, stay to complete their bachelor's degrees, or transfer to another Penn State campus to complete their studies, choosing from among 160 majors.
More information about the program can be found at montalto.psu.edu/psychology or contact the Admissions Office by calling 717-749-6130 or email [email protected].