Students, staff and faculty will pitch ideas and develop solutions to common problems through a series of competitions and challenges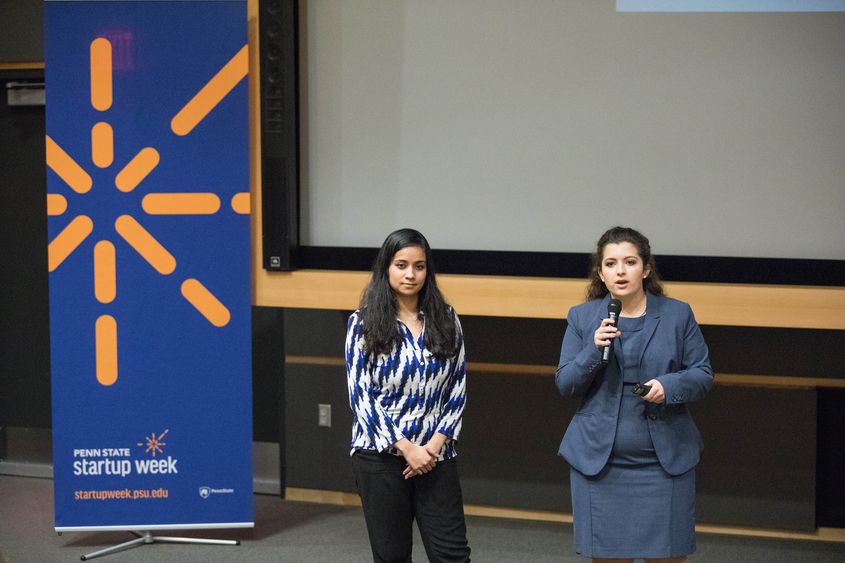 UNIVERSITY PARK, Pa. — Entrepreneurs from across the University will pitch their business ideas and create inventive solutions to common problems through a series of competitions and challenges held during Penn State Startup Week from April 1-5.
The challenges are at the heart of Startup Week's mission of teaching and inspiring participants to make innovation a part of their lives, communities and careers, either by starting their own companies or bringing a problem-solving approach to established organizations. Through close collaboration with existing University programs, community partners and Invent Penn State, events also will introduce participants to the innovation ecosystem and the abundant resources at Penn State and in its surrounding campus communities.
3-Day Sustainability Mini-Challenge
A highlight of the week is the "3-Day Sustainability Mini-Challenge," in which participants will create innovative solutions to reducing waste at Penn State. The challenge will be held nightly from 8-10 p.m. April 1-3 in the Business Building at University Park, and individuals who participate in all three nights will earn an IBM Enterprise Design Thinking Practitioners Badge.
The event is coordinated by Lee Erickson, chief amplifier at Happy Valley LaunchBox powered by PNC Bank, and Dave Norloff, assistant teaching professor in the Donald P. Bellisario College of Communications. The challenge is open to all members of the University community, and no registration is required. Interested participants can learn more on the mini-challenge event page.
The challenge begins on Monday, April 1, when sustainability experts will guide teams through problem-solving steps: defining the problem, identifying the behaviors they want to change, and analyzing the root causes of the problem. On Tuesday, April 2, teams will participate in customer discovery exercises during the day, then spend the evening developing potential solutions to the problem and creating a low-fidelity prototype that illustrates their solution. The challenge concludes on Wednesday, April 3, with teams presenting their solutions and next steps to a panel of expert judges.
"Penn State generates 760 tons of plastic bottle waste every year that ends up in a landfill," said Erickson. "The 3-Day Sustainability Mini-Challenge is a great way for students to figure out how to make a difference by improving recycling across campus and ultimately have a positive impact on the environment."
The top three teams will win prizes and showcase their work at an invitation-only recognition reception on Thursday, April 4, with Penn State President Eric J. Barron and Startup Week guests.
Competitions and challenges
Many other competitions will host final pitches or recognize past winners during Startup Week. Unless otherwise noted, all events are free and open to the public for viewing, and event details can be found on the Startup Week website.
University Park
Supply Chain Pitch Contest
Monday, April 1, 5-8:30 p.m., Steimer Auditorium, Forest Resources Building
Hosted by the Smeal College of Business' Department of Supply Chain and Information Systems, four finalist teams will pitch their ideas aimed at solving a supply chain problem or improving a supply chain product or process to compete for more than $10,000 in total awards.
Happy Valley Ventures Pitch Contest
Tuesday, April 2, 4-5:30 p.m., 114 Earth and Engineering Sciences Building
Hosted by Happy Valley Ventures, teams of student-run startups will present their final pitches as they compete for $3,500 in prizes provided by the Farrell Center for Corporate Innovation and Entrepreneurship along with consideration for follow-up early stage investment.
Arts Business Idea Competition
Tuesday, April 2, 4-6 p.m., 16 Borland Laboratory
Hosted by the College of Arts and Architecture, four finalists will compete for $10,000 in total awards by pitching their ideas for an arts-related business or nonprofit organization.
Next Valley Venture Competition
Tuesday, April 2, 6-8:30 p.m., 111 Chambers Building
Hosted by Penn State's Humanitarian Engineering and Social Entrepreneurship program, student teams will compete for prize money and mentorship by pitching their ideas for social ventures that meet at least two of the U.N.'s Sustainable Development Goals.
Ag Springboard Competition
Wednesday, April 3, 8:30 a.m.-3:30 p.m.
In this invitation-only event hosted by the College of Agricultural Sciences, teams of students will pitch their ideas for a new business or nonprofit in the food, energy, ecosystems, bioproducts, community development or sustainability sectors to win a $7,500 grand prize and $2,500 second prize.
Nittany AI Challenge
Wednesday April 3, 11 a.m.-5 p.m., 233A&B HUB-Robeson Center
Hosted by the Nittany AI Alliance, phase two of the Nittany AI Challenge will see teams of Penn State students compete for prizes by presenting their AI-based prototypes that improve the Penn State student experience and/or University operations.
IdeaMakers Challenge
Wednesday, April 3, 4-5:30 p.m., W201 Westgate Building
Hosted by the College of Information Sciences and Technology, student teams will make final pitches that identify an important problem that can be solved by digital innovation.
Global Legal Hackathon
Hosted by Penn State Law in February, Legal Hackathon will showcase student winners who competed as part of a worldwide initiative that challenged students and legal professionals to conceptualize and design technology that addresses legal issues.
Inc. U Competition
Hosted by the Pennsylvania Technical Assistance Program, Inc. U will showcase six finalist teams competing for $30,000. The challenge, which aims to fund new student companies at universities, will conclude on April 6 with the taping of WPSU's "The Investment 2019" TV show.
mHealth Challenge
Hosted by the College of Health and Human Development, the College of Information Sciences and Technology, and the College of Nursing, the mHealth Challenge will recognize student winners who competed in November 2018 to develop a mobile application prototype that addressed a health problem for a specific target audience.
Commonwealth Campus
Penn State New Kensington Hack4Impact
Saturday, March 30, 10 a.m.-4 p.m., The Corner, 701 5th Avenue, New Kensington, PA
Hosted by The Corner LaunchBox and Penn State New Kensington, teams of students will compete for various prizes by developing ideas on how to change Rustbelt communities into Cyberbelt communities and pitching their proposals to a panel of judges.
Penn State Harrisburg Elevator Pitch Competition 5.0
Monday, April 1, 5:30-8:30 p.m., 104 Educational Activities Building North
Hosted by the Penn State Harrisburg Business Management Club, student entrepreneurs will pitch their business ideas for seed funding.
Penn State Schuylkill LionLaunch Business Plan Competition
Thursday, April 4, 5-7:30 p.m.
Hosted by Penn State Schuylkill's LionLaunch community-based entrepreneurship program, finalists will pitch their small business ideas, with winners earning up to $5,000 and free office space.
Penn State Mont Alto $2,500 LION Tank Competition
Hosted by Mont Alto LaunchBox, LION Tank will showcase winners of their final pitch competition, which was held March 15. Top teams will receive startup funding, access to the Mont Alto LaunchBox, and additional services to help get them to market.
Penn State Shenango $500 Startup Challenge
Hosted by Penn State Shenango's innovation hub, VenturePointe Incubator at the eCenter @ LindenPointe, 19 participants pitched to be one of five teams selected to make it to the next level of the challenge.
Penn State Wilkes-Barre Innovation Challenge
Hosted by Penn State Wilkes-Barre's innovation hub, the Think Center, winners of the annual Innovation Challenge will be recognized. The event was held in February in collaboration with four other universities.
"As demonstrated by the numerous challenges and competitions, it's inspiring to see how everyone at Penn State owns innovation," said James Delattre, associate vice president for research and Director of the Office of Entrepreneurship and Commercialization, who is leading Startup Week. "Penn State's inspired makers and doers are in every academic college and on every Penn State campus."
About Penn State Startup Week
For detailed information about Penn State Startup Week, including the full week's schedule, visit StartupWeek.psu.edu. Most events are open to the public and many events will be livestreamed online. Participants can engage with speakers and ask questions by following @PSUStartupWeek on Twitter and using the hashtags #PennStateStartup or #BeGreater on social media.