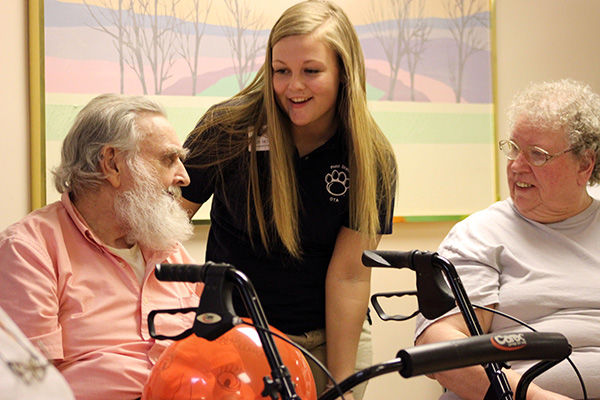 During the winter months, residents at Trinity House, an apartment complex near the Mont Alto campus, appreciated the energy Penn State Mont Alto occupational therapy assistants (OTA) brought twice a week. During two-hour gatherings for eight weeks, OTA students connected with the residents over conversation, crafts and cooking activities in a program they fondly call Gather Around and Warm Up or GAWU.
"The purpose of us being here is to engage residents in the balance of mind, body and spirit," said OTA student Kelsey Buterbaugh. "And it will give us the foundation we need to understand different personalities and to meet people's needs in many ways," she said.
To begin the sessions, the students asked the residents what was meaningful to them and then planned those activities during the weeks they were together. The social contact and activities provided by GAWU were meant to give Trinity House residents a sense of social connectedness and a steady dose of laughter that is needed during the cold winter months.
Each second-year OTA student is required to complete a course that includes a community-based fieldwork experience. This course not only incorporated coursework the students accomplished in their first year of studies but also gave them the opportunity to put their textbook knowledge into practice.
OTA student Haylee Dietrich said the fieldwork experience at Trinity House helped prepare her for the next step in her occupational therapy work. "I have really enjoyed being able to connect with the residents. This taught me interpersonal skills and those are really important wherever I will be working," she said.
The course also achieved an important OTA program goal, to strengthen internal and external community relations and partnerships, according to Angela Hissong, Penn State Mont Alto director in occupational therapy.
"The occupational therapy fieldwork at Trinity House is one example of how Penn State Mont Alto can be a social and educational resource in our community while also providing an important academic experience for our students," she said.
Throughout the semester, the number of participants at Trinity House grew from 12 to 20, according to Cheryl Deal, Penn State Mont Alto adjunct instructor in occupational therapy who taught the course and coordinated GAWU. "Many of the students befriend the clients, and that is part of our training," she said. "Students enliven the Trinity residents from day one. The residents and Penn State students become a community and many say they wish we could be here every day."
During the final GAWU session for the term, the activities included residents writing and sharing those things for which they felt most thankful and playing a game called "Toss and Talk," which generated discussion and laughter. While sitting in a circle, members of the group took turns passing a red balloon. The person in possession of the balloon would answer a question and then pass the balloon to someone else. Some of the questions included, "What was the name of your first pet?" "Did you have a childhood nickname?" and "What is your favorite holiday?" The session ended, as always, with good food, prepared by a team of students and residents. On this day, at the request of the residents, the meal was breakfast-for-dinner and included warm waffles, bacon and eggs, and juice.
Trinity House resident Author Richardson was sad that the afternoon's activities would be the last session for the term.
"It is great! I enjoy it," he said. "It keeps me busy and keeps me active."
The students enjoyed it, too. "Having this gave me something to look forward to all week," said McCauley Sole, "to be here and have the opportunity to talk to these people."
"My residents have loved this," said Joan Amsley, site manager at Trinity House Apartments. "I know they were all very happy when the students were here. They were very enthused with everything and they enjoyed it thoroughly," she said.
The Penn State Mont Alto Occupational Therapy program is fully accredited by the Accreditation Council for Occupational Therapy Education of the American Occupational Therapy Association. Find out more about the Penn State Mont Alto OTA program at www.montalto.psu.edu/ota. To find out more about occupational therapy, go to www.aota.org.