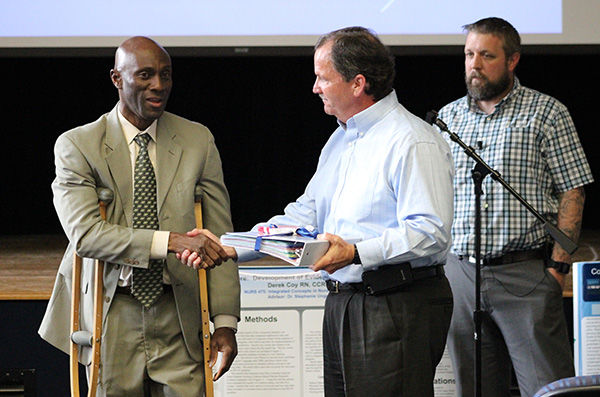 During spring 2015, Penn State Mont Alto nursing and information sciences and technology students collaborated on a capstone project to help improve the quality of services Waynesboro Community and Human Services (WCHS) can provide through an updated website and secure portal. The project was presented to WCHS administrators and board members April 30.
Located in Waynesboro, WCHS is a nonprofit organization that provides a variety of human services for underserved residents living within the Borough of Waynesboro and more recently, Washington Township, due to a grant from Summit Endowment.
The IST students updated the look and technology of the website and developed a secure portal. The nursing students provided up-to-date, evidence-based health-care practice guidelines in the areas of home health assessment, medication administration, diabetes assessment and management, chronic heart failure assessment and management, safety and infection control, and wound care. The guidelines can be accessed through the secure portal using mobile devices, such as iPads.
WCHS visiting nurses now have the ability to access current health care procedures from their clients' homes. This not only improves the quality of health care the nurses can provide but also increases the time they can spend with their clients.
Dr. Stephanie Unger, instructor in nursing, and Dr. Lila Rajabion, instructor in information science technology, initiated the joint program to enhance their students' learning in the real world and to be of service to the local community.
"This project is an amalgam of several things the University considers to be very important," said Penn State Mont Alto Chancellor Francis K. Achampong. The areas he noted included service learning, student engagement, experiential learning and giving the students the opportunity to work in teams. "So, you should really be proud of yourselves, and congratulations to the faculty who have been involved with this project. I expect that this will improve the delivery of WCHS services."
Dennis Griffith served as the IST team project manager, while Kimberly Hanan was the nursing project team manager. They and their classmates in the NURS 475 and IST 440W courses took turns presenting the project. The session ended with Achampong handing the project policies and procedures book to Greg Duffey, WCHS president, co-chair of the Oversight Committee and board member.
"We were really looking for assistance in the IT area and nursing, and we are so glad that you have spent the time to help us," Duffey said.
When Penn State Mont Alto Chief Academic Officer Michael Doncheski first learned of the scope of the project, he was concerned it could be accomplished but was pleased with the students' final product. "I am amazed at what you have accomplished. Kudos to the students and faculty, but more importantly, you helped our community," he said. "Thank you for your great job."