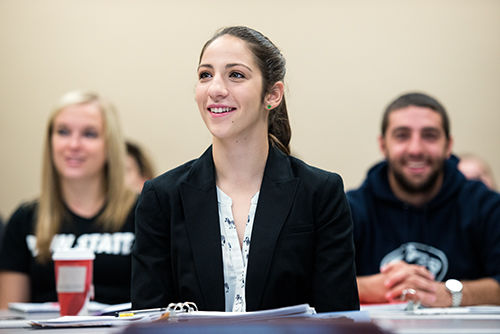 Beginning with the fall 2015 semester, Penn State Mont Alto will offer a bachelor of science degree in health policy and administration (HPA) in collaboration with Penn State Harrisburg's School of Public Affairs. The program will prepare students for mid-management and policy positions or graduate study in the health care field.

The major gives students the flexibility to select courses that fit their personal and professional goals for a wide array of jobs in the growing field of health care — 436,000 health care provider jobs were added just this year, according to a July 2015 report by the U.S. Bureau of Labor Statistics.

Applications for the degree are now being accepted for admission in Penn State Mont Alto's fall 2015 semester. Courses for the degree will be offered at the Penn State Mont Alto campus in addition to some online and distance courses also taught by faculty from the Penn State Harrisburg School of Public Affairs.

"We are excited to offer HPA to our students," said Penn State Mont Alto Chief Academic Officer Michael Doncheski. "The program will allow our students to tailor their courses to an extensive number of jobs, and the degree can also be paired with minors in business, information sciences and technology, and human development, which are already being offered at Mont Alto. In addition, the HPA degree strengthens our health care offerings that include nursing, physical therapist assistant, and occupational therapy."

HPA graduates are prepared to work in six types of health care organizations:
Health care providers (hospitals, physician practices, nursing facilities, home health agencies)
Health insurers (nonprofit and commercial insurers, health maintenance organizations)
Health care consulting firms
Health care supply companies (pharmaceutical companies, medical device manufacturers)
Health services research and policy organizations (health policy research groups, industry trade groups)
Local, state, and federal health agencies (local health departments, state departments of health, U.S. Department of Health and Human Services)
HPA students can also use the degree to prepare for graduate study in business, law, medicine or allied health fields, health administration, health services research or policy, and public health.

More information about the program is available at montalto.psu.edu/hpa. Requests for additional information can be made by calling the Penn State Mont Alto admissions office at 800-392-6173 or 717-749-6130, or by email at [email protected].