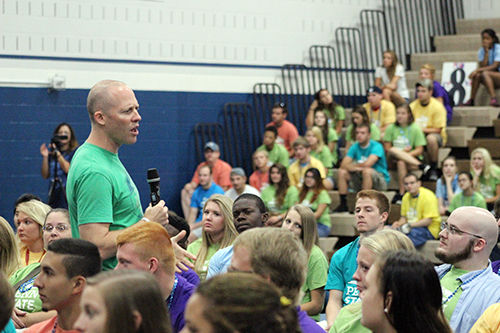 Award-winning motivational speaker Jon Vroman returned to the Penn State Mont Alto campus on Aug. 22 to kick off New Student Welcome activities. Speaking to a crowd of about 500 in the Multipurpose Activities Center, he encouraged students to "live college life in the front row," asking them to step away from their comfort zones and push themselves to pursue what they believe to be important and meaningful in their lives.
"Some people will not become the best they could be because they are worried about what others think," said Vroman. "My message is simple: Get over the fear and stand for what you believe in."

Throughout his energetic talk, Vroman shared five ideas: connect with people and treat everyone "like a rock star;" create the energy you need by acting your way into it; seek change and know it's all right to be uncomfortable; be fully committed, like you're living your biggest dream; and contribute to others because it is not only good to do, but it also feels good.

Author of "Living College Life in the Front Row," Vroman was voted "Campus Speaker of the Year" in 2012 and 2013 by the Association for the Promotion of Campus Activities. In addition, his foundation, The Front Row Foundation, has continued to help severely ill individuals for more than a decade.