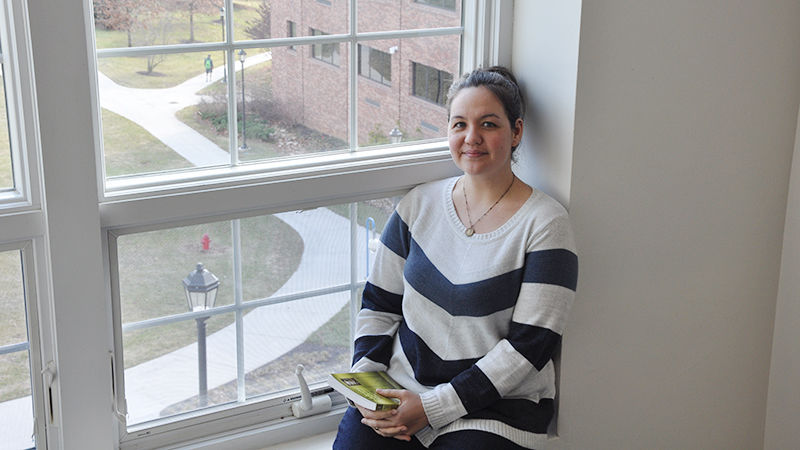 MONT ALTO, Pa. — Amanda Moore, of Chambersburg, Pennsylvania, is on track to graduate from Penn State Mont Alto this May with a degree in psychology. She presented her research work, on the effects of adverse childhood experiences, at Columbia University in February, before the coronavirus pandemic necessitated the University's shift to remote education.
"I was so honored and humbled to participate in the prestigious 37th Annual Winter Roundtable at Columbia, a conference composed of researchers, professors and practitioners who are looking for the latest current research," said Moore. "I got a chance to present at a national conference; that's huge for me. I don't think that would have been an option if I wasn't enrolled in Mont Alto's psychology program."
Moore said she believes it is because of Mont Alto's strong focus on research that she was chosen to speak at the conference.
"Penn State has an established global reputation for excellence and Mont Alto's psychology program, with its commitment to conducting research, offers a one-of-a-kind degree," she said.
While Moore said she plans to continue her education and earn a doctorate in clinical psychology, she noted that there are many options available at Mont Alto to fit any student's career goals.
Mont Alto offers three different, 4-year psychology degree options: a bachelor of arts degree; bachelor of science degree, business option; and bachelor of science degree, science option.
Robin Yaure, program coordinator and professor in the psychology department, said the program was added to Mont Alto's baccalaureate portfolio in August 2018. Since its inception, the program has become a very popular option with the student body.
"There are so many different psychology options that afford the campus some dynamic choices. You can major in psychology with a business option, there are students, like Amanda, who are focusing on research — the job opportunities in psychology are limitless," she said.
In addition to the traditional paths of counseling or clinical psychology, Yaure said there are many different fields that psychologists can work in, such as human resources, consulting, engineering, healthcare and pharmaceutical – to name a few.
"I think the psychology bachelor's degree is a perfect fit for our campus. We brought on some new faculty who are dynamic researchers and teachers in Jacob Sawyer and Seulki (Rachel) Jang. It's brought a lot of new, life blood onto the campus," she said.
Sawyer specializes in clinical psychology while Jang is versed in industrial and organizational psychology, said Yaure.
"We always try to foster critical thinking skills among our students. They have a chance not only to engage in learning psychology but also to create new knowledge through research opportunities," Jang said.
Yaure said psychology is a wonderful complement to the campus' well-established bachelor's programs like Human Development and Family Studies; Nursing; Business; and Health Policy and Administration.
"I think all these academic options really capitalize on the strength of our campus and bring together a multi-disciplinary understanding of contemporary problems which can only mean enhanced student success," Yaure said.
While the curriculum is robust, and research-based, Moore said it's the faculty that really sets the psychology program apart.
"The psychology faculty are very motivated to help the students achieve their goals. I don't think I'd be going where I'm going without having had the mentors at Mont Alto," she said.