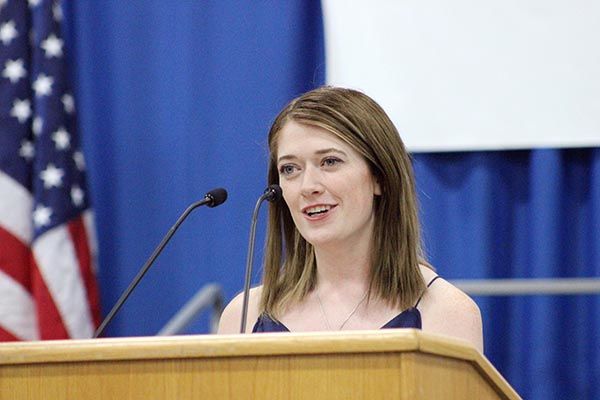 "Bringing donors and scholarship recipients together is a wonderful way to personalize the meaningfulness of the generosity of our scholarship donors," said Francis Achampong, chancellor at Penn State Mont Alto, as he welcomed the crowd of about 400 scholarship donors and student recipients to the 20th annual Scholarship Celebration in the Multipurpose Activities Center on Oct. 16.

During the evening, donors and recipients had the opportunity to meet and celebrate philanthropy, learn about some new scholarships and gifts, and hear about the impact scholarships are having on students' educations and lives. To sweeten the occasion, Mont Alto alumna Sandra Offutt, a 2008 graduate, provided custom Hershey chocolate bars for everyone in attendance.

Bridget Kenney, who will graduate from Penn State in spring 2016, is one of three student recipients who spoke during the evening. "If it were not for the generosity that Paul & Rachael White showed by creating their scholarship, I might not be standing before you," she said. "I want to thank each of the donors in the room that believe in students they are supporting and for making it possible for individuals like me to receive a Penn State education."

Chair of Mont Alto's Development Committee Ellen Palmer, 1989 Penn State graduate who spoke on the topic of fundraising at Mont Alto, today, reflected on her own time as a Penn State student, thanked the donors and asked the student recipients to get to know their donors during the evening.

"As Penn State prepares for a new, comprehensive fundraising campaign, our development committee is ready to do our part in helping support your Penn State experience," she said.

John Dietz, associate vice president for Penn State Central Development, talked about fundraising at Penn State in the near future. As part of a team working with President Eric Barron's office, Dietz is helping to develop goals and initiatives that will steer Penn State's next fundraising campaign. He noted the rising costs in higher education and diminished state support and said the University remains committed to keeping a Penn State degree within the reach of all deserving students.

"Earlier this year, for the first time in nearly five decades, President Barron and the Board of Trustees implemented a tuition freeze for Pennsylvania residents at all campuses, which was an important statement about their commitment to access and affordability," said Dietz. He asked that both the donors and students continue in their support for Penn State.

Director of Campus Development Randall Ackerman, a 1983 Penn State graduate, said much of the $5.4 million in philanthropic support was raised for scholarships during the recent For the Future, The Campaign for Penn State Students. "The results of that campaign are illustrated tonight as we celebrate awarding 400 Mont Alto students with scholarship support totaling more than $554,000," he said.

Since the close of the For the Future campaign in summer 2014, Mont Alto has continued to raise substantial sums of support for our students and programs, according to Ackerman. "Tonight, we will celebrate four of those new gifts," he said. The first gift of $15,615 will honor the late Debra Creager by the construction of a memorial garden, located near her favorite place on campus, the Emmanuel Chapel. Creager, who worked for 17 years in the Development Office, was well loved by alumni, friends, and members of the campus community. Indeed, 60 individuals contributed to the garden in less than 22 weeks, according to Ackerman.

Harry, 1941 Penn State graduate, and Doris Oyler's recent gift of $24,273 was also celebrated. The Oyler's have given to Penn State since 1953—62 years. From Harry's first gift of $5 and their continued support throughout the years, the Oyler's cumulative giving totals $397,775.

Longtime supporters John and Pauline Shearer, 1951 and 1953 Penn State graduates, respectively, were mentioned for their two scholarships. They previously had underwritten the expenses for Mont Alto's first campus choral festival. The Shearer's were recognized for their generous contribution to the campus' choral endowment this fall with a new gift totaling $107,188.

Two new scholarships totaling $203,096 from the family of the late Andrew Hartman, 1982 Penn State graduate, were also celebrated. Hartman attended Penn State after suffering a tragic spinal cord injury and through hard work and determination earned his Penn State degree; he later earned a graduate degree from George Town University. The first scholarship, The Andrew Hartman Memorial Scholarship for Students with Disabilities, is open to all students attending any Penn State campus and doing so with a disability. The second scholarship, The Andrew Hartman Trustee Scholarship, is for Mont Alto students who are enrolled in the Physical Therapy Assistant program.

Hartman's brother, Scott Hartman, said the first scholarship is an attempt to "pay forward" the same kind of support "Andy received from the University and a prior donor." The second scholarship will support those who provide ongoing physical therapy so they can maintain functionality and a good quality of life for their patients. "After his injury," said Scott Hartman, "Andy spent countless hours with physical therapists and physical therapy assistants."

The evening ended fittingly with another example of philanthropy, a stirring performance by the Penn State Mont Alto Chorale, which is supported through the Miner Choir Endowment that was established in 2013 by Kate Miner, wife of the late John A. Miner.