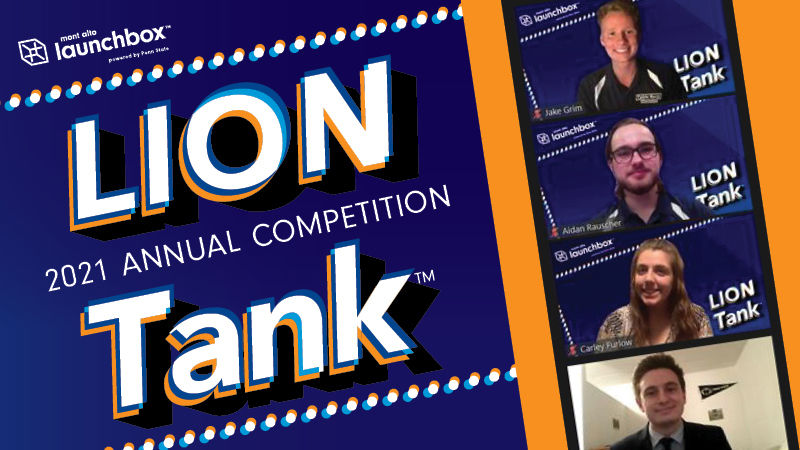 MONT ALTO, Pa. — A racecar seat insert designed to reduce spinal injury, a device that allows musicians with hand injuries to keep playing, and an e-commerce solution for farmers earned Penn State students cash to continue developing their products during the Mont Alto LaunchBox LION Tank pitch competition on March 25.
LION Tank is a competition staged by the Mont Alto LaunchBox, an innovation hub funded by a seed grant from the Invent Penn State initiative. The event was sponsored by the Patriot Federal Credit Union.
The top three pitches considered to be most viable received grants of $500, $1,000 and $1,500 along with a year's access to the Mont Alto LaunchBox and additional services to help get their products into the marketplace.
Current Penn State Mont Alto student Jake Grim took first place for his startup Table Rock Markets— an online retail platform that helps connect farmers to produce purchasers in their area.
Calling it the "Etsy for farmers," Grim's web platform allows farmers to build a digital presence to market to consumers with relative ease. His hope is that the Table Rock Markets will help farmers increase their overall sales and raise awareness among local consumers about the farms and produce available in their own backyards.
Penn State Harrisburg student Carley Furlow won second place with her business Bonded Bows. A violinist and student-athlete, Furlow leveraged her own experiences playing her violin while suffering from hand injuries to develop a device that allows musicians with hand injuries or medical conditions to be able to comfortably grip their bow.
Nicholas Anzalone, a senior at the University Park campus, took home third place with Crash Pad, a specially designed shock-absorbing seat insert for racecar drivers that reduces the risk of spinal injury. Anzalone collaborated on the product with his business partner and grandfather, a veteran racecar driver.
Additional pitches presented included:
Traduki Technologies LLC, founded by Penn State Berks alum Ryan Morris. With a team of four others, Morris has created an integrated language interpretation software that provides access to professional language interpreters in 250 languages who are available 24/7 for use by medical, government and education entities and individuals.
Reach A.I., co-founded by University Park student Kareem Jelks and his business partner, J.P. Keeling. Reach A.I. is an artificial intelligence-powered big data analysis tool and supply chain solution for healthcare providers to reach underserved populations in rural Pennsylvania.
WoodGoods Lacrosse, founded by Lehigh University student Justin Gelwicks. This sports equipment startup specializes in making high-quality wooden lacrosse shafts that can be customized by laser-engraving players' names, numbers and logos.
"The LION Tank competition gets better and better each year with ideas for products and services that are more market-ready," said Francis Achampong, chancellor of Penn State Mont Alto. "This year's competition topped the previous three and took the competition to a new level. The judges, who are experienced not only with business start-ups but also in considering whether to fund them, included Linsey Covert, CEO and founder of TEAMology; John Rotz, a retired high-ranking bank administrator, most recently from First Community Bank of Mercersburg; and Tom Trgovac, executive vice president and general counsel of Global Data Consultants LLC."
The Mont Alto LaunchBox opened in January 2018 and offers free services to business entrepreneurs, such as receiving legal assistance from Penn State's Entrepreneur Assistance Clinic at University Park to set up a new company or file a patent for a product. Formerly located on N. Second Street in Chambersburg, Pennsylvania, the LaunchBox is currently providing services remotely due to COVID-19.
More information about the Mont Alto LaunchBox is available at montalto.psu.edu/launchbox.
Invent Penn State is an initiative created to spur economic development, job creation and student career success.